Welcome to this weeks Fabulous Foodie Friday party!  It's so lovely to have you all part of this little community and we can't thank you enough for visiting and linking up with us each week. I don't know about you, but can you believe it's almost the end of September already?!?! Where on earth is this year going?  We are certainly being treated to lovely Spring weather (at least we are in Brisbane!) and we've been enjoying relaxed dinners outside – well as least as much as they can be with a fast approaching three year old and a 15 month old!
Once again there were so many wonderful recipes linked up last week, I find it so hard to just choose five of my favourites, but here are this weeks picks:
I love salad!  I especially love this 'fancy' Vincotto Chicken with Rocket, Grape and Caramelised Walnut Salad from Eat Quaff Laugh. Doesn't it look great?
Isn't it great when you make accidental baking discoveries? Who would have though baking these Gingerdoodle Cookies in a muffin tray would be such a success!  Thanks Dorm Room Baker.
Welcome Oh Creative Day to our Fabulous Foodie Fridays party,  I'm loving your Date Chocolate Scones!
Give me a plate of cheese and I am a VERY happy lady.  I can't wait to create my next cheese platter after reading these great tips from Pretty Mayhem.
Another big welcome this week goes to Boiled Eggs and Soldiers.  The addition of cranberries to these chocolate chip cookies is such a wonderful (and delicious!) idea.
Don't forget to pop over to Bake Play Smile and check out Lucy's picks.
It's been a little while since I shared a savoury recipe, what can I say I have a sweet tooth!  I came up with the idea for these Spinach, Feta and Tomato Scrolls when I was thinking about finger food ideas for the AFL Grand Final this weekend – even though my team didn't make it.    The scroll recipe is so easy to make, and you could really let your imagine run wild when it comes to creating you filling.  I'm already planning to make some vegemite and cheese and pizza scrolls in the very near future!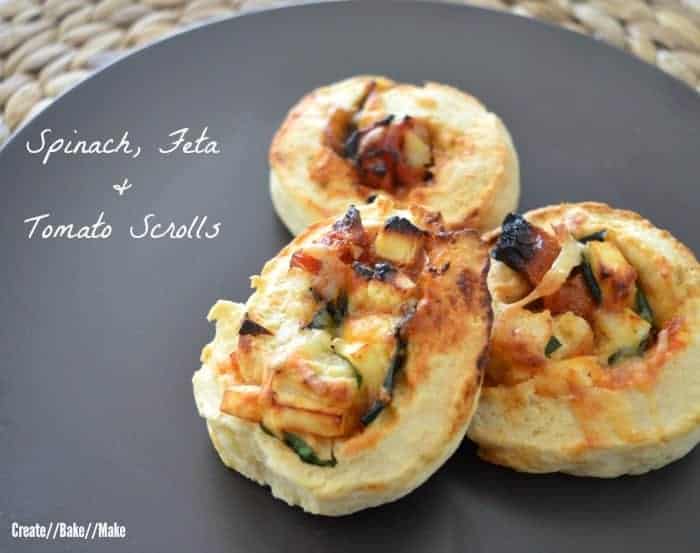 You will need:
2 cups of self raising flour
pinch of salt
90g of butter
⅔ cup of milk
¼ cup of tomato chutney (or similar)
½ cup of tasty cheese – grated
100g of feta
100g of baby spinach leaves
100g of sun dried tomatoes
a drop of milk
Let's put it together
Preheat your oven to 210 degrees and line an oven tray with baking paper.
Sift flour and salt together in a large bowl and rub in the butter until the mixture is the consistency of bread crumbs.
Slowly add the milk and use a butter knife to combine.
Turn out the dough and knead until it forms a smooth ball.
Use a rolling pin to roll dough out until you have a 30 x 40cm rectangle.
Spoon the relish over the dough, leaving a 2cm gap around the edges.
Brush one long edge with a little milk.
Scatter feta, spinach and sun-dried tomato over the relish.
Starting at the long side (without milk) carefully roll the dough until enclosed.
Cut into 12 slices – approximately 2cm thick.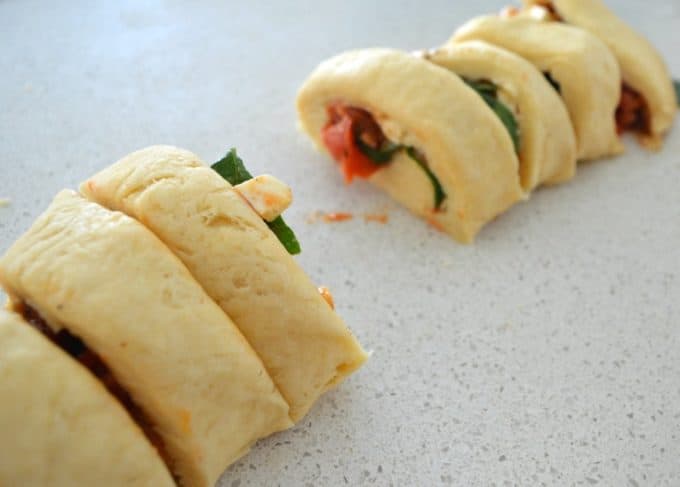 Place on a baking tray and sprinkle with grated cheese.
Bake in oven for 25 minutes or until golden brown on top and cooked through.

Enjoy!
You're Invited!
Lauren from Create Bake Make & Lucy from Bake Play Smile have put their chocolate filled minds together, to bring you the newest and yummiest link up party in town…. Fabulous Foodie Fridays.
Each week we'll select 5 of our favourite recipes to feature on the following Fabulous Foodie Fridays link up party, so be sure to check back and see if your recipe is featured.
The rules for the party are simple:
1. Please only link up food or drink related posts. You can share up to 3 posts each week. They don't have to be recent posts, but please make them new to the 'Fabulous Foodie Fridays' party.
2. Simply add your links and they will automatically show up on both of our blogs… it's that easy!
3. It's sooo not a party without mingling…. please visit and comment on at least three other links that are near you in the list.
4. Follow us on social media so you can keep up to date with all the Fabulous Foodie Fridays goss!
Bake Play Smile:      Facebook    Instagram   Pinterest    Twitter
Create Bake Make:   Facebook   Instagram    Pinterest    Twitter
Fabulous Foodie Fridays:   Facebook    Instagram    Pinterest
5. Feel free to grab the Fabulous Foodie Fridays button and share the love around!
6. Leave a comment below so we know that you came and partied with us – we want to return the favour and visit you too.
* By adding your link, you are giving Bake Play Smile and Create Bake Make permission to post one photo from your post with a link back to the full recipe for party features and future roundups on our blogs and possibly share your image and link on social media. Oh and of course we will also let you know about upcoming Fabulous Foodie Fridays link parties!
Post links to all your Foodie Fabulousness here