A few weeks ago when I discovered the chocolate and caramel goodness of Twix Brownies I thought I had come up with THE BEST brownie recipe – that is, until I decided to make these Snickers Brownies.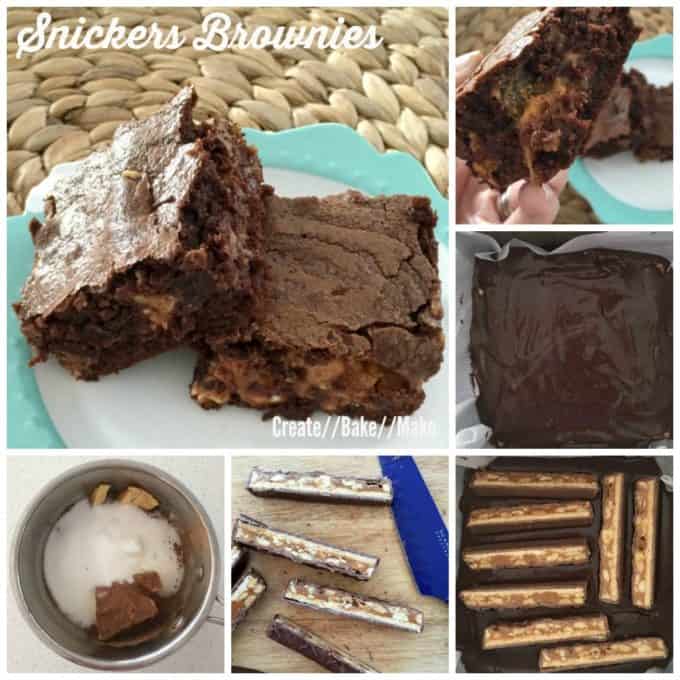 Again this is a super simple recipe and I've used a brownie base that doesn't require a block of chocolate, because let's be honest, there is probably enough chocolate and calories in each brownie to last a week.  I cut each Snickers Bar lengthways to make the brownies a little easier to eat and also to spread the Snickers love throughout the brownie as much as possible.
I'm really not sure what my favourite element of these brownies is.  I think it's the combination of the irresistible caramel and chocolate surprise hiding in each bite and the addition of the melted nougat and peanuts which turns these brownies into something really special.
Snickers Brownies
Ingredients
150

g

unsalted butter

1

cup

of caster sugar

¾

cup

of cocoa

1

teaspoon

of vanilla extract

3

eggs

½

cup

plain flour

4

Snickers bars
Instructions
Preheat your oven to 160 degrees and line the base and sides of a 20cm square baking tin with baking paper.

Cut the Snickers in half lengthways and set aside.

In a large saucepan (you want it to be big enough to accommodate the extra ingredients added later), melt the butter, cocoa and sugar over a low heat – stirring continuously.

Add the vanilla essence and egg - whisking the mixture as you go.

Sift the flour over the mixture and whisk to combine.

Spoon half the mixture into the cake tin and carefully place the Snickers on top.

Add the remaining brownie mixture to cover the Snickers and pop into the oven and bake for 35 minutes.

Allow Brownie to cool in the tin before removing, cut into small pieces - or large pieces - there's not judgement here!
Enjoy!!
Now that I've made Twix and Snickers Brownies, what combination do you think I should try next?
Do you think anything can beat Snickers Brownies?