I know what you are all thinking, we're just starting to get over the chocolate rush of Easter and here am I sharing another sweet treat – I promise there are some savoury recipes on their way to the blog very soon!  If it's helps, think of this Peppermint Cheesecake Slice as an after dinner mint, the perfect way to wrap up a few days (or weeks if you are me!) of overindulging.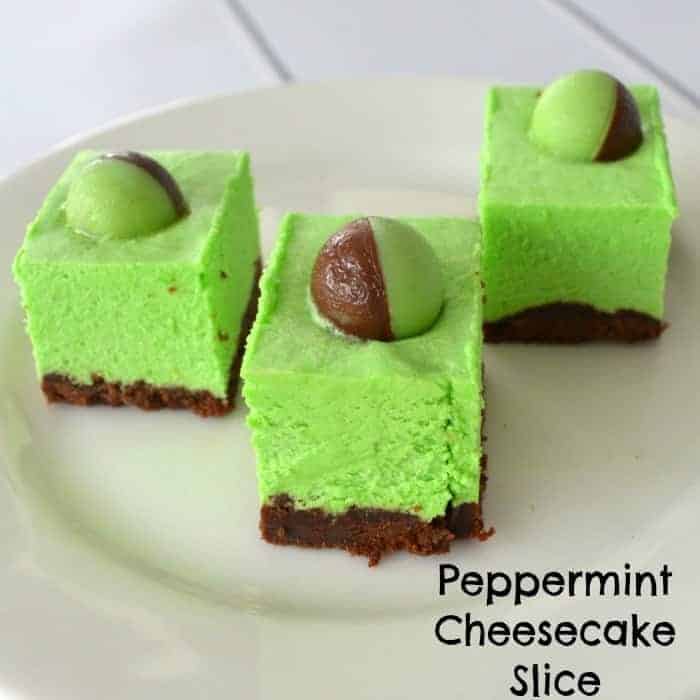 I actually made this Peppermint Cheesecake Slice a few weeks ago when I was fortunate enough to sneak out of the house for a couple of hours on a Friday night to catch up with two lovely ladies.
I've admitted to you before that I'm not a fan of the combination of peppermint and chocolate or any sweet treat that has peppermint in it at all – it just feels wrong to me.  However both my friends as well as my husband all seemed to enjoy it, so I guess it couldn't have been too bad.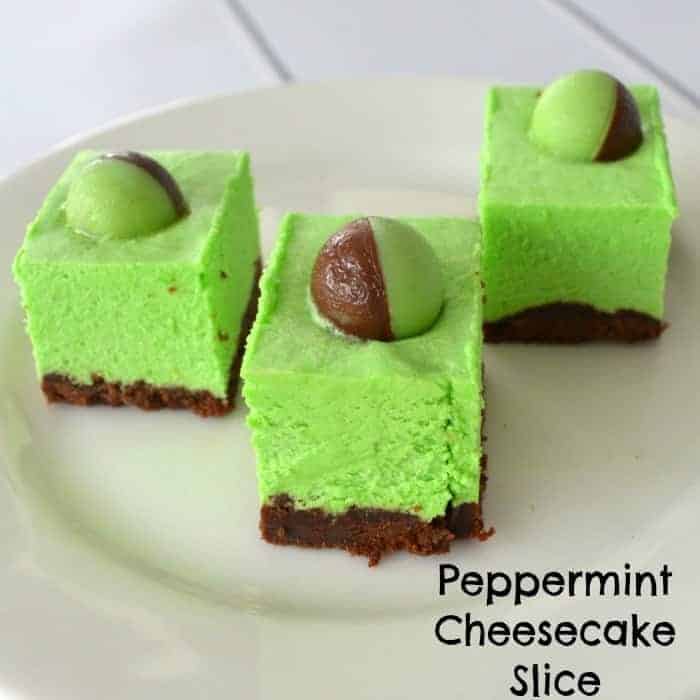 Peppermint Cheesecake Slice
Ingredients
250

g

of Chocolate Ripple Biscuits

or similar

80

g

of butter - melted

375

g

block of Cream Cheese - softened

½

cup

of caster sugar

1

teaspoon

of peppermint essence

½

teaspoon

of green food colouring

1

cup

of cream

3

teaspoons

of powdered gelatine

¼

cup

of boiling water

200

g

of white chocolate - melted and slightly cooled

1

bag of Mint Aero Balls to decorate - optional
Instructions
Cover the base and sides of an 18 x 28cm slice tin with a sheet of baking paper. It's important to make sure you leave paper hanging over the sides.

Melt the white chocolate in the microwave - cooking for 30 second spurts and once melted set aside to cool slightly.

Add the gelatine to a cup of boiling water and stir to combine.

Crush chocolate ripple biscuits in either a food processor, or using a rolling pin until they resemble fine crumbs. Add the melted butter and stir to combine. Press the crumbs in the base of the slice tin and place in the freezer to chill for 30 minutes.

While the base is chilling, combine the cream cheese, sugar. peppermint essence and food colouring using an electric mixer until smooth. Add the cream and mix to combine.

Stir through the gelatine mixture and white chocolate.

Spoon the mixture over the chilled base and decorate with the Aero Balls and refrigerate for 6 hours or until the slice has set.
Nutrition
Serving:
0
g
Calories:
0
kcal
Carbohydrates:
0
g
Protein:
0
g
Fat:
0
g
Saturated Fat:
0
g
Polyunsaturated Fat:
0
g
Monounsaturated Fat:
0
g
Trans Fat:
0
g
Cholesterol:
0
mg
Sodium:
0
mg
Potassium:
0
mg
Fiber:
0
g
Sugar:
0
g
Vitamin A:
0
IU
Vitamin C:
0
mg
Calcium:
0
mg
Iron:
0
mg
 Peppermint Cheesecake Slice Thermomix Instructions
1. Cover the base and sides of an 18 x 28cm slice tin with baking paper – make sure to leave paper hanging over the sides.
2. Place the chocolate ripple biscuits into the bowl and mix on speed 8 for 10 seconds.
3.  Add the butter and cook for 30 seconds (or until it has melted), on 60 degrees, speed 2.
4. Press the biscuit base into the bottom of your prepared tin and place in the fridge to chill.
4.  Add the gelatine to a cup of boiling water and stir to combine. Allow to cool.
5. In a clean thermomix bowl, insert the butterfly attachment and add the cream cheese, peppermint essence, green food colouring, castor sugar and cream and mix for 30 seconds on speed 1  reverse until you have a smooth consistency. Pour into a large mixing bowl and remove the butterfly insert.
6. Add the white chocolate (you don't need to wash the bowl) and chop it for 10 seconds on speed 8.
7. Scrape down the sides and melt the chocolate for 3 minutes at 5o degrees on speed 1.
8. Allow the mixture to cool for approximately 5 minutes.
9. Fold the white chocolate into the cream cheese mixture and spoon over the chilled biscuit base. Decorate with Mint Aero Balls if you wish.
 10.  Place in the fridge to set and follow above instructions from step 10 to decorate.
Enjoy!
Is there anything you enjoy baking but don't like to eat?