This post is a sponsored post for Spotlight
Both of my boys love to have fun 'making' which is what they affectionately call any activity involving crayons/paint/glue/stamps – basically anything which will make a mess and results in incidents such as this:
Attempting any kind of art or craft project activity with kids (especially an almost two and three year old) is inevitably going to end up messy.  The more experienced I become at this parenting gig, the more relaxed I am becoming about this fun mess, after all any activity that will keep two toddlers occupied and happy for more than 5 minutes is a winner in my books.
With Mother's Day just around the corner (I know, can you believe it?!) I decided to get out our 'making gear' and get our craft on to create our own Mother's Day Craft for Toddlers that are easy to put together and make perfect last minute gifts.
Although our craft box is usually well supplied, after a couple of 'incidents' involving a period of no supervision when paint, glitter and glue was being used, we needed to restock our supplies, so we headed to our local Spotlight store.
I don't know about you, but Spotlight is one of those places where I just can't stop myself from buying a few extra items that are not on my list. I always seem to come across something that gives me a great idea and end up popping more than a few extras into our shopping basket.  During our latest visit, we were on a mission and we made a beeline for the craft section to restock our paint and glitter supply.   However while chasing the boys browsing the aisles, I spotted a set of blank canvas which gave me the idea to try and recreate some of the gorgeous keepsake canvas art I see all the time on Pintrest with the boys.
Our Spotlight visit was a success and we picked up our finger paint, glitter and glue along with a set of four canvas, pipe cleaners, goggly eyes and a bag of coloured feathers and love hearts picked out by the boys.
The boys couldn't wait to start making and insisted on getting creative with a couple of old egg cartons we had lying around as soon as we got home.
I decided to use these painted and decorated egg cartons as the basis for our first Toddler Mother's Day Project – Egg Carton Flowers.
The boys had a great time painting and sticking feathers and glitter onto the egg cartons.  Later that afternoon while they were asleep, I spent 5 minutes sticking the egg carton flowers and pipe cleaners onto the canvas – too easy!
The next projects we tackled was the Butterfly and Love Heart Hand Prints.  This was an activity which I knew I needed to be more involved in, to give us just the slightest chance of it working out.  So last week when our baby boy was having a particularly long sleep, Big Boy and I got out the paints and canvas and had some fun creating.  As it didn't take us long to create the handprints we needed, Big Boy had a great time doing a combination of finger, hand, brush and nose (don't ask) painting to create several masterpieces.
Once our handprint canvas art pieces had dried, I spent a few minutes adding the final touches to them – I added pipe cleaner antennas and eyes to our butterfly and painted an outline around our Love Heart Hand Prints.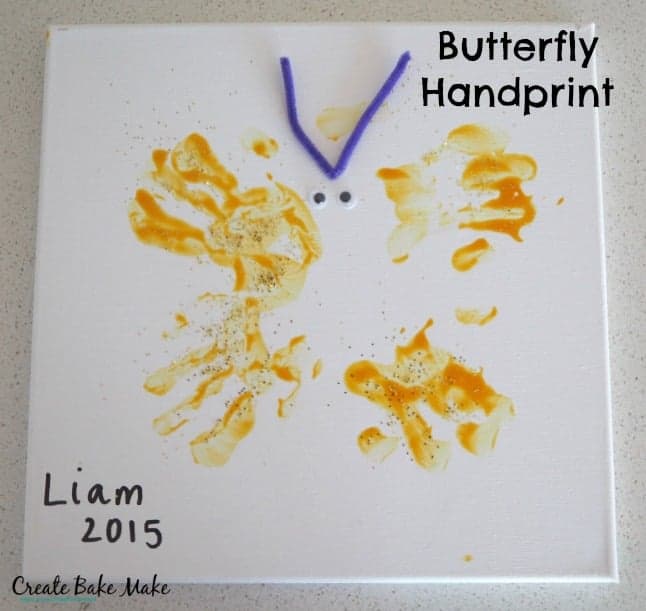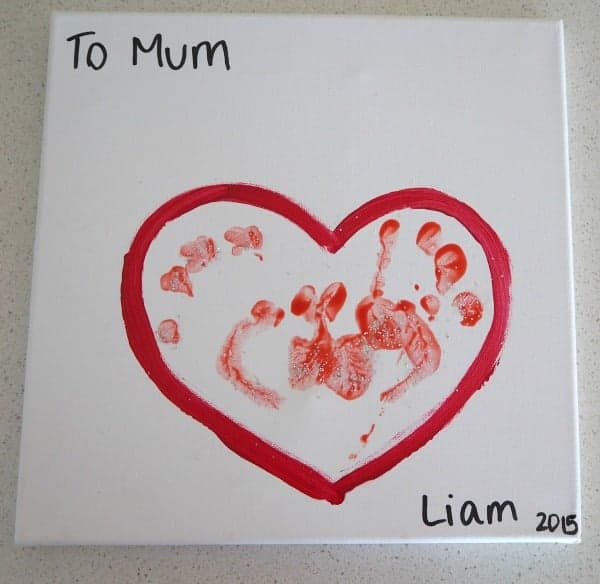 I wanted our last Mother's Day craft project to be something the boys could work on together.  I've come across the gorgeous Family Tree Finger paintings on Pintrest, and decided we'd attempt our very own version of a Family Tree.
To prepare, I painted a tree trunk onto our final canvas and set it aside to dry.  Then it was time to let the boys loose and add the leaves.  It was no surprise that the dainty fingerprint leaves I had envisaged didn't eventuate, instead our artwork was an unique combination of hand, arm and paint brush strokes.
Both of the boys had a ball adding their own individual touch to this Family Tree Canvas, and we were all very happy how well it turned out.
All four of these Mother's Day Art projects took around half and hour to put together and because they are made by the kids, they are just that little bit extra special. You can watch a video of us putting these Mother's Day Craft for Toddlers activities together here:
I think the important thing to keep in mind when you are setting out to do these kind of activities with kids is remembering why you are actually doing it – to give your kids the opportunity to create something special and have fun.  I knew our finished products were not going to turn out looking perfect – in fact my husband commented he thought our Butterfly was a Crab….  However the important thing is not only did we create some easy keepsake art pieces that are perfect for Mother's Day, but because we tacked such simple art projects we were able to enjoy ourselves as well.
If you are looking for more ideas, you can also find plenty of creative inspiration in either your local Spotlight store or online and along with all their great art and craft products, you will find loads of great Mother's Day present ideas – I'm already leaving hints with my husband to buy me some cute new dinnerware!
This post has been featured in a great collection of Mothers Day ideas and articles, make sure you pop over and check them all out!
Thanks to the lovely team at Spotlight, I have a $100 Spotlight gift voucher to giveaway – just in time for Mother's Day!
To enter this competition all you need to do is answer the following question:
What is your favourite kids craft activity and why?
This competition has now closed – Congratulation Andreea!
Competition Terms and Conditions:
Entries close at 11.59pm Sunday the 3rd of May 2015 – AEST.
This competition is open to Australian residents only.
The prize is one $100 Spotlight Gift Voucher, this prize is not transferrable or redeemable for cash.
This is a game of skill, the winner will be chosen based on the most creative answer as determined by the judges.
All entries require an active email address to be valid.
The judges decision is final.
The winner will be announced on this blog on Monday 4th of May 2015.
The prize will be issued by Spotlight. Neither Spotlight or Create Bake Make take any responsibility for the prize after it has been put into the post
As always, all opinions are my own.