This post is in collaboration with Crazy Sales
Now that the end of the year is within sight, I've been having a look back through some of the most popular recipes I've shared this year and couldn't help but notice you guys seem to love Maltesers! So when I was asked to review a Maxkon Ice Cream Maker from Crazy Sales, deciding what ice cream flavour to make was easy!
The delivery of my machine was quick and as always, the boys were very excited when the postman knocked on our door – thanks to my online shopping addiction, the postman and I are on first name basis.
I'd spent a bit of time on Pintrest searching for the perfect ice cream recipe before my machine arrived, and while I now have a LOT of recipes I now want to try, the instruction book that came with my machine included six recipes – perfect to get me started.
I chose to use the Chocolate Mint Ice Cream recipe from the booklet as a guide to make my Malteser ice cream.  To make it just that extra special, I also decided to make a chocolate sauce to go with it.
You will need:
200ml of milk
50g of icing sugar
200ml of thickened cream
1/2 teaspoon of vanilla extract
155g pack of Maltesers
Let's put it together!
The day before, place the inner bowl of your ice cream maker into the freezer.
Then, when you are ready to make your ice cream, place the milk and sugar into a saucepan on cook over a low heat.  Keep stirring until the sugar has dissolved.  Transfer to a medium sized bowl and pop into the fridge to cool.
Whilst the milk mixture is cooling, roughly chop your Maltesers and set aside until needed.
Once cold, remove from the fridge and stir through the cream and vanilla extract.
Place the now frozen inner bowl of the ice-cream maker into the machine and lock the lid into place.  Turn it on and gently pour the mixture into the machine through the chute.
Allow the ice cream to churn for approximately 15 minutes, before adding the chopped Maltesers through the chute.
Churn for a further 3 – 5 minutes or until desired consistency is achieved.
Scoop the ice cream out of the machine and enjoy either on it's own or if you want to be extra naughty, add some chocolate sauce – yum!
This was the first time I have made ice cream from scratch and I couldn't believe how incredibly easy it was.  I used my Thermomix to combine the dissolve the sugar into the milk (2 minutes, 50 degrees, speed 2) and also measure and stir through the cream and vanilla (1 minute, speed 1).
My ice cream maker was very easy to use and really did all the work itself, which was helpful considering the boys spent the entire afternoon arguing and I kept having to step away to break up fights.  All up I churned our ice cream for around 20 minutes as I prefer it to be a little softer.  It was still firm enough to hold up well to having hot chocolate sauce poured over it!  It made enough ice cream for all four of us to enjoy with enough leftover to pop into the freezer and enjoy later.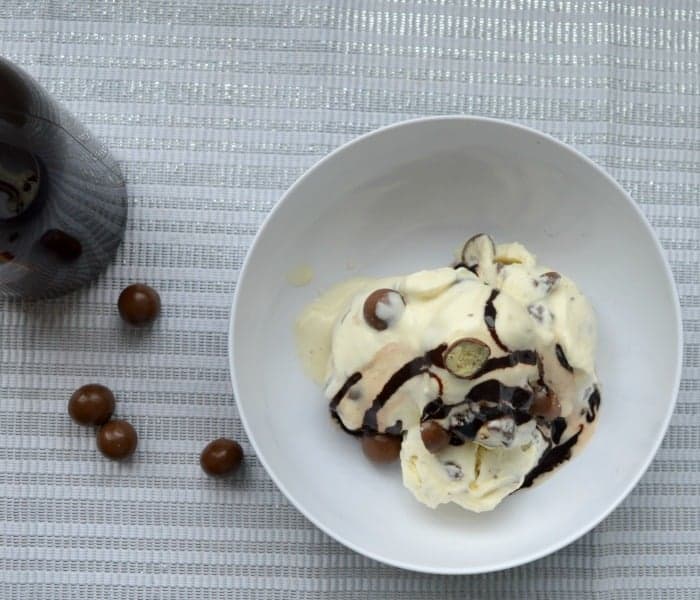 Thanks to the lovely people at Crazy Sales, I have a one x 1.45L Electronic Ice Cream, Frozen Yoghurt Gelato and Sorbet Maker, valued at $34.95 to give away.  To enter, please leave a comment below telling me: what your favourite ice cream combination is.  The most creative answer as judged by me will be the winner.
** Whilst I was gifted an Electronic Ice Cream Maker and paid for the time and ingredients to put together this recipe and review, all opinions are my own.
 Competition Terms and Conditions:
Competition runs from Tuesday 9th of December to 11pm Monday 15th of December.
Entry open to Australian Residents only.
This is a game of skill, the most creative entry will be the winner. No discussions regarding the judging or outcome will be entered into.
The Prize is 1 x 1.45Litre Electronic Ice Cream, Frozen Yoghurt, Gelato and Sorbet Maker valued at $34.95.
The Prize will be issued by Crazy Sales.  Neither Crazy Sales or Create Bake Make take any responsibility for the prize once it has been posted.
Winner will be announced on this blog and via social media by Wednesday 17th of December.
***** This competition is now closed – congratulations Jacinta!