I'm a crafter from waaaay back, but thanks to the chaos of toddlers, work and life I just don't get the chance to do it much these days – so having the opportunity to check out some of the cool new products and crafting ideas at Spotlight's National Craft Launch for a couple of hours last week was the perfect way to spend my day.
For the second year, Spotlight is hosting National Craft Month during March which is a chance to celebrate all things art, craft, sewing and of course cake decorating!  During this month, five mini festivals each displaying a different type of craft are being held in Spotlight stores across the country and just quietly I have already marked the 14th and 15th of March in my diary to attend Cake Fest!
After being inspired to 'get my craft on' again, the boys and I headed to our local Spotlight store for some supplies.  We picked up some cute Easter themed chicken cupcake cases and toppers as well as some painting supplies and Easter themed art products for the boys.  I also bought some supplies to create some easy wall art for their rooms which I'll share more of in the coming weeks.
Naturally we were eager to use our little chicken cupcake cases and toppers which we bought, and it only seemed fitting to make Easter cupcakes so we came up with this recipe for Chocolate Malteser Cupcakes.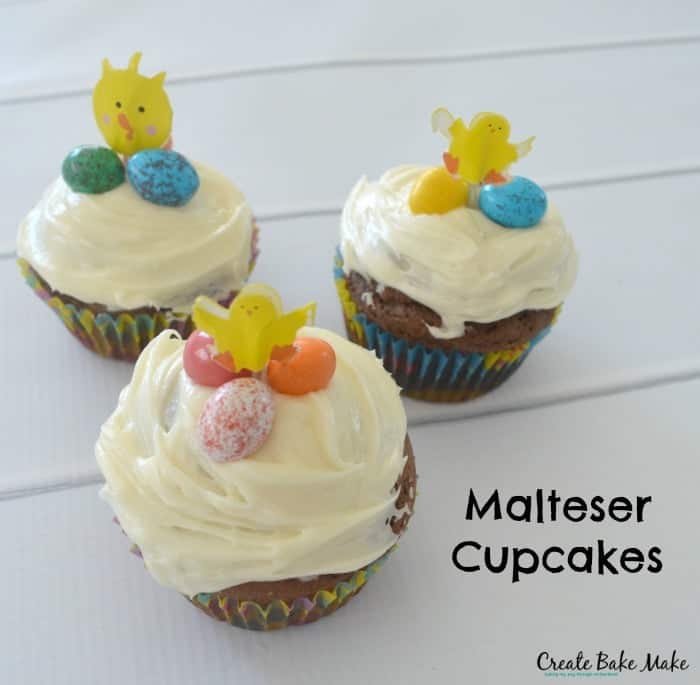 Malteser Cupcakes and getting our craft on
Ingredients
2 ½

cups

of self raising flour

⅓

cup

of cocoa powder

½

teaspoon

of bicarbonate of soda

⅔

cup

of caster sugar

1 ½

cups

of buttermilk

1

teaspoon

of vanilla essence

2

eggs

150

g

of melted butter – cooled.

16

malteser easter eggs

A bag of speckled easter eggs to decorate
Instructions
Preheat your oven to 180 degrees and line 18 cupcake holes (1 ½ trays) with paper cases.

Place the butter in a microwave safe bowl and cook for 30 seconds or until melted. Set aside to cool.

Sift the flour, cocoa powder and bicarbonate of soda into a bowl and add the sugar. Stir all of the ingredients together before making a well in the centre.

In a small jug, combine the buttermilk, eggs and vanilla essence before pouring them into the well made from the sifted dry ingredients.

Add the cooled melted butter and gently fold all of the ingredients together until they have just combined – the mixture should still be a little lumpy.

Spoon the cupcake mixture into the paper cases, filling each one until they are approximately ¼ full. Place one of the malteser easter eggs in the centre and cover with cake mixture until the paper case is ⅔ full.

Place the cupcakes into the oven and bake for 18 – 20 minutes or until they are cooked through when tested with a skewer.

Let the cupcakes cool in the tin for five minutes before carefully transferring them to a wire rack to cool completely.

You can use any type of icing you like to cover your cupcakes, I was a little bit lazy and used ready made vanilla frosting to cover mine.

Once the cupcakes have cooled, cover them with approximately 1 tablespoon of icing and use a spatula to cover. Place 2 -3 small easter eggs on top of the frosted cupcake along with a chicken decoration and repeat until all the cupcakes have been iced and decorated.
This recipe will most certainly become a regular in our house during the lead up to Easter, after all who can resist a delicious and soft chocolate cupcake with a malteser easter egg centre?!
Do you love crafting too? What's your favourite craft activity?
To learn more about National Craft Month, visit the Spotlight Facebook page.
Disclaimer: I attended the National Craft Month Launch as a guest of Spotlight and received product samples and vouchers in return, as always all opinions/reviews are my own.