On Friday the boys and I ventured into the city for a fun morning at Myer's new and gorgeous Christmas Giftorium.  I will admit to being a little apprehensive taking both of the boys with me, but they were kept amused by staff performing magic tricks, creating amazing balloon animals, face painting and of course (and their favourite part) a gorgeous display of food.
The Giftorium has been developed to help bring back the fun, theatre and celebration of Christmas, and is available in all 67 stores across the country.  The entire fourth floor of the Brisbane City story is dedicated to Christmas, and I couldn't  help but smile as we walked around, listening to Christmas carols while we looked at all the colourful displays of Christmas ornaments, decorations and of course gifts!
To help make your Christmas shopping quicker and easier (especially if you have two cranky toddlers), you can get help from a 'Giftician'. They will help you select the perfect gift from one to the 12 dedicated Christmas gift themes, which include: Dapper Dad, Miracle Mum, Kids Cubby, Fashionista and my personal favourite Food Fanatic – what a surprise!
It was while browsing through the Food Fanatic gifts, that I came across the 'Cupcake Express' – a set of four silicone cupcake holders that also immediately caught the eye of our train obsessed Big Boy.  I couldn't resist buying them, and then spent the rest of the morning convincing Big Boy that we needed to wait until we got home to open them and make "Train Cakes".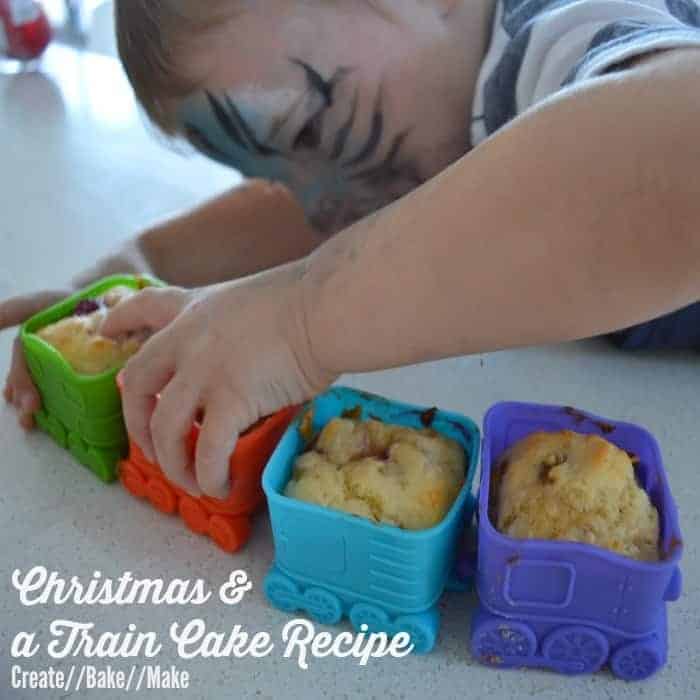 After a power nap on the drive home, Big Boy was ready and very eager to have some fun with our new toy.  Given we had all overindulged a little too much thanks to the amazing morning tea supplied, we decided to make some Banana and Raspberry Cupcakes, which while not the healthiest choice, at least they didn't contain any chocolate and are freezer friendly.
You will need:
2 1/2 cups of self raising flour
1/2 cup of caster sugar
1 1/2 cups of milk
2 eggs – lightly beaten
1 teaspoon of vanilla extract
150g of butter – melted
1 cup of mashed ripe bananas
1 cup of raspberries – I used frozen
Let's put it together!
Preheat your oven to 200 degrees and place paper cases in 2 x 12 hole muffin trays (this also makes 12 regular sized muffins and 4 train muffins).
Sift the flour into a large bowl , add the sugar and stir to combine. Make a well in the centre.
Mash your bananas in a separate bowl and set aside until needed.
In a small jug or bowl, mix together the milk, eggs and vanilla extract until combined.
Pour the milk mixture and melted butter into the bowl with the flour, add the mashed banana and gently fold the mixture together almost combined. Add the raspberries and gently fold through.  Be careful not to over mix, the batter should still be lumpy.
Spoon the mixture into the paper cases and pop into the oven to bake for approximately 18 – 20 minutes or until muffins are cooked through.
I was pleased to see Big Boy wasn't very interested in actually eating the cupcakes and was happy to simply play with his "Train Cake".  Once the novelty wore off (which I admit did take a good hour!) I bagged the muffins up and popped them into the freezer.
A big thank you to Kids Business and Myer for a great morning – the boys and I had a ball!
Please note this is not a sponsored post, we just really enjoyed our morning and I have already been back for a little bit of child free shopping!  All opinions are my own, and in the interest of full disclosure, I did received a gift bag, Sodastream machine and Giftorium gift voucher for attending.