Our recently turned three year old (eek – hold me!) is just a little bit obsessed by fire engines and fire fighters, so it wasn't a huge surprise when he requested a 'Jupiter' (aka fire engine for those non Fireman Sam fans out there) cake for his birthday.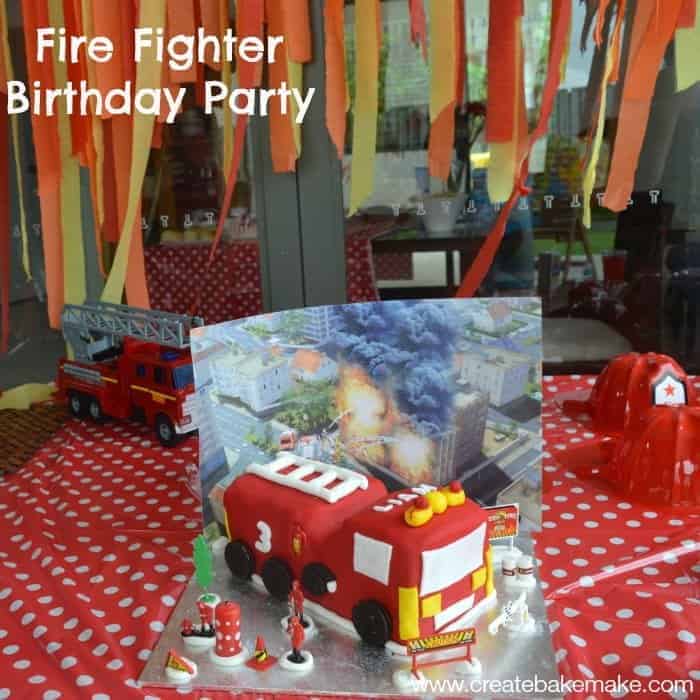 Based on his cake request, we decided to have a Fire Fighter Birthday Party and invited a couple of his friends and some family over for morning tea and a play.  I had spent loads a little time on Pintrest looking for ideas for some easy food and decorating ideas but it was a couple of weeks before his party when I hit the Jackpot and discovered Fire Fighter helmets at our local discount store.  These 'helmets' were a hit with the kids, and they also looked great sitting on the table below the crepe paper 'flames'.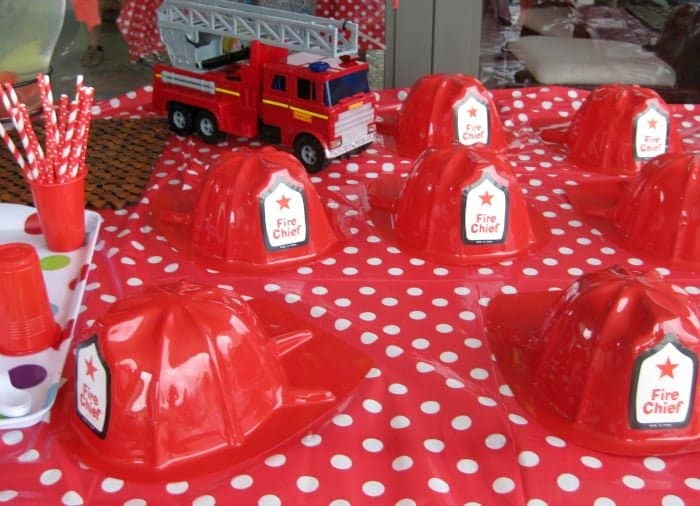 Trying to come up with 'fire' themed food ideas was really hard, so I stuck with a general theme of red, orange and yellow food – with a few healthy options thrown in of course!
Clockwise from top left: Hawaiian Pizza Scrolls, Chicken and Salad Rice Paper Rolls, Mixed Sandwiches, Vanilla Cupcakes, Fiery Fruit (Watermelon, Rockmelon and Pineapple), Scones, Jelly Slice with Strawberries and Sausage Rolls.
Without a doubt the highlight of the morning was the cake and let's be honest, birthdays are ALL ABOUT THE CAKE!  I was a little worried about using fondant and ganache due to the crazy humidity we have here in Brisbane, but figured I'd start the cake a few days in advance and just hope for the best.  The cake itself was easy, I used my go to chocolate mud cake recipe and made two long rectangular cakes.
 I then used just a couple of the fire trucks we have lying around as inspiration when cutting and assembling the cooled cakes.  When it came time to ganache my cake, true to form, the weather was ridiculously hot and humid (who has January babies?!?!) and even with the air conditioner cranking the cake still needed to spend time in the fridge during the process to help firm it up.
After several attempts at propping up the cake and using almost one kilogram of chocolate in my gananche, I finally came to the conclusion it wasn't going to look perfect.  I already knew working with fondant in summer was tough, but working with RED fondant is a whole other story.  I decided to tackle the job of covering the cake in the coolest part of the day, and rose at 3.30am the next morning ready to do battle.  Thanks to the temperature cooling to a lovely 22 degrees and our trusty air conditioner, covering the cake was a fairly simple process.
It wasn't long before my big boy decided to wake early and come downstairs to join me, just as I was sitting down to decorate his cake.  As he walked into the kitchen and spied the big red, lopsided and lumpy mass on the kitchen bench, a huge smile spread across his face and he immediately climbed up onto the stool to get a closer look.  The two of us spent the next hour rolling fondant together to create hoses, lights, ladders and more and I tried my best to create and then place each item as per our big boy's instructions.
He had a wonderful time helping me roll lengths of fondant for the ladder and balls to create the 'flashing lights' and he may have snuck in an Oreo or two whilst we were decorating
Yes it wasn't the prettiest looking cake I've ever created, but without a doubt it was our big boy's favourite and after all, isn't that what is most important?
 Do you enjoy making cakes for your kids birthday parties?
What has been their favourite cake?