Happy Friday!
I hope you've had an amazing week. After spending the weekend on the Gold Coast, our house (myself included) has been struck down with a nasty cold which has left us all feeling a little sorry for ourselves.  I shouldn't complain too much for being stuck at home this week after I had the most amazing weekend away at the ProBlogger Conference last week. Amongst the many highlights of the weekend was meeting so many of you in person and also spending lots of time with my baking bestie and cohost Lucy.
Naturally the majority of the photos I took revolved around food, but our weekend also involved a sneaky pre conference visit to my favourite stationary store Kikki K as well as lots of catching up with some of my favourite people.  In amongst it all, I was able to spend some time checking out the great recipes you guys linked up with us last week – thank you!  Some of my favourites included:
I prefer to make my own snack bars for the boys and can't wait to try these Healthy Cranberry Chocolate Oat Bars from The Kiwi Country Girl.
This Crustless New York Cheesecake from Land of Zonkt looks simply amazing!
No wonder breakfast is my favourite meal of the day, how could I resist these Cinnamon Sugar French Toast Bites from Go Eat and Repeat!
These Mash Potato Parmesan and Chive Waffles from Dancing Through Sunday have blown my mind. I don't think I could resist these anytime of the day!
Love Snickerdoodles? You are going to LOVE this Snickerdoodle Choc Chip Layered Cake with Cream Cheese Frosting and Cookies from Throughly Nourished Life.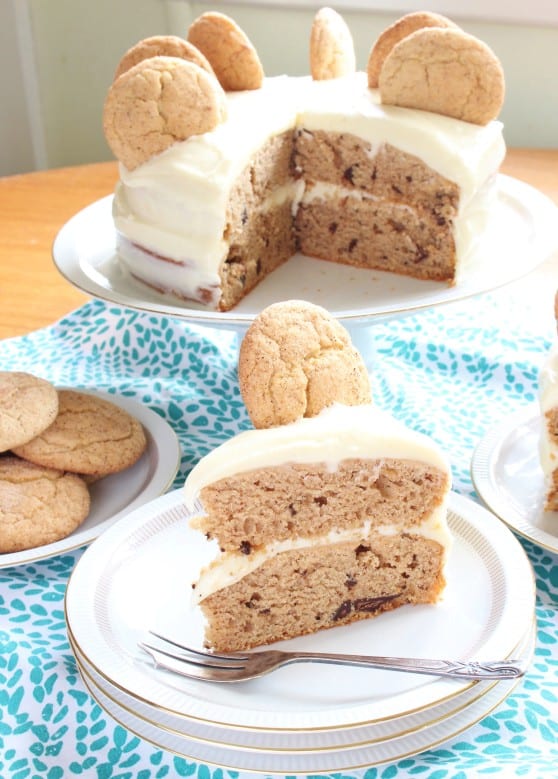 Don't forget to pop over  Bake Play Smile and check out Lucy's favourite recipes too.
YOU'RE INVITED!
Lauren from Create Bake Make and Lucy from Bake Play Smile have put their chocolate filled minds together, to bring you the newest and yummiest link up party in town…. Fabulous Foodie Fridays.
Each week we'll select 3 of our favourite recipes to feature on the following Fabulous Foodie Fridays link up party, so be sure to check back and see if your recipe is featured.
THE RULES FOR THE PARTY ARE SIMPLE:
1. Please only link up food or drink related posts. You can share up to 3 posts each week. They don't have to be recent posts, but please make them new to the 'Fabulous Foodie Fridays' party.
2. Simply add your links and they will automatically show up on both of our blogs… it's that easy!
3. It's sooo not a party without mingling…. please visit and comment on at least three other links that are near you in the list.
4. Follow us on social media so you can keep up to date with all the Fabulous Foodie Fridays goss!
Bake Play Smile:      Facebook    Instagram   Pinterest    Twitter
Create Bake Make:Facebook   Instagram    Pinterest    Twitter
Fabulous Foodie Fridays:   Facebook    Instagram    Pinterest
5. Feel free to grab the Fabulous Foodie Fridays button and share the love around!
6. Leave a comment below so we know that you came and partied with us – we want to return the favour and visit you too.
* By adding your link, you are giving Bake Play Smile and Create Bake Make permission to post one photo from your post with a link back to the full recipe for party features and future roundups on our blogs and possibly share your image and link on social media. Oh and of course we will also let you know about upcoming Fabulous Foodie Fridays link parties!