Happy Friday!
Wow, what a week it's been!  Thank you to everyone who joined us last week, we had 57 amazing recipes linked up – make sure you check them out!
It's been another chaotic week in our household. We're back from our visit to Darwin, the boys were very well behaved on both the late night flights and slept through the horrible turbulence we experienced for two hours on our trip over.  We had a great time and my hubby and I even managed to sneak out and enjoy a sneaky cocktail (or two) to celebrate our wedding anniversary.
In between it all I managed to sit down and narrow down my list of favourites to just five, so without further ado here are my picks this week – enjoy!
Soup weather is here and this Meatless Minestrone from Peregrination Gourmande sounds and looks amazing.
So I have a little confession, I don't actually own a Slow Cooker but when I see recipes like this Mexican Slow Cooked Pulled Pork from Mrs Organised I think I need to go out and buy on immediately!
Bliss Balls are one of my favourite sweet treats to make and I can't wait to try these Macadamia Lemon Bliss Balls from Cooking in the Chaos.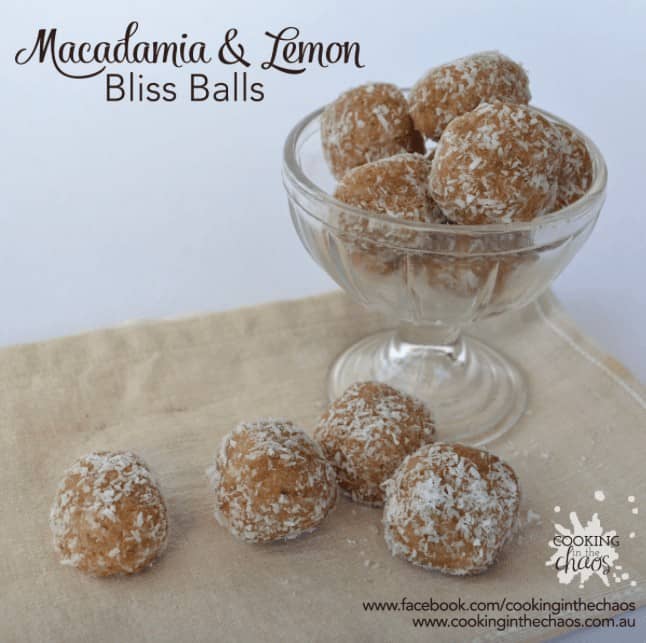 I'm loving The Annoyed Thyroid's Savoury Pancakes – not that I needed another excuse to eat them anytime of the day!
We love quinoa in our house and this Quinoa Corn and Orange Salad from Pretty Wee Things looks delicious.
Don't forget to pop over to Zamamabakes and Bake Play Smile to check out Dannielle and Lucy's favourite recipes too.
YOU'RE INVITED!
Lauren from Create Bake Make , Lucy from Bake Play Smile and now Dannielle from Zamamabakes have put their chocolate filled minds together, to bring you the newest and yummiest link up party in town…. Fabulous Foodie Fridays.
Each week we'll select 3 of our favourite recipes to feature on the following Fabulous Foodie Fridays link up party, so be sure to check back and see if your recipe is featured.
THE RULES FOR THE PARTY ARE SIMPLE:
1. Please only link up food or drink related posts. You can share up to 3 posts each week. They don't have to be recent posts, but please make them new to the 'Fabulous Foodie Fridays' party.
2. Simply add your links and they will automatically show up on both of our blogs… it's that easy!
3. It's sooo not a party without mingling…. please visit and comment on at least three other links that are near you in the list.
4. Follow us on social media so you can keep up to date with all the Fabulous Foodie Fridays goss!
Bake Play Smile:      Facebook    Instagram   Pinterest    Twitter
Create Bake Make:Facebook   Instagram    Pinterest    Twitter
Zamamabakes:     Facebook  Instagram   Pinterest    Twitter
Fabulous Foodie Fridays:   Facebook    Instagram    Pinterest
5. Feel free to grab the Fabulous Foodie Fridays button and share the love around!
6. Leave a comment below so we know that you came and partied with us – we want to return the favour and visit you too.
* By adding your link, you are giving Bake Play Smile, Create Bake Make and Zamamabakes permission to post one photo from your post with a link back to the full recipe for party features and future roundups on our blogs and possibly share your image and link on social media. Oh and of course we will also let you know about upcoming Fabulous Foodie Fridays link parties!