This Post is in collaboration with My Super Nanny
Trying to come up with new snack ideas for our two boys can be tough work – especially when I'm on short on time and the boys are cranky.  I can't help but turn to the same old snacks (hello biscuits and cheese) that while easy to put together they really don't give the boys much variety.
The team at My Super Nanny know that as parents it can be tough coming up with easy, delicious (and most importantly healthy) snacks and meals for our kids, which is why they have put together their LunchBox Legends collection.  Here you will find a range of healthy recipes that are perfect for little (and big!) tummies, that are also simple to make.
After looking through the great LunchBox Legends recipes, I decided to put together this collection of four healthy and most importantly EASY Toddler Snack ideas that take no time at all to put together, can be easily modified to suit the age of your little one AND are sure to satisfy even the fussiest little person!
Peanut Butter Bananas
All you need is a banana, some peanut butter and muesli to put these together.
Slice the banana into large pieces – the size will depend on the age of your little one.
Spread a little peanut butter around the banana – for the older toddlers, you can then roll the banana in a small bowl of muesli for some extra goodness.
Happy Faces
Toddler Snacks really don't get any easier than this!  All you need is a pear and some currants or sultanas.
Slice the pear into pieces approximately ½ cm thick.
Use the currants to create the eyes and mouth.  If your little one is not yet old enough to eat currants, you can use a piece of cheese instead and simply cut the shapes you need from it.
Zucchini Slice
This easy meal is not just for dinner time!  This is a great way to sneak some extra veggies into the kids and best of all you can cut your Zucchini Slice into snack size pieces and pop them into the freezer, then when you need them, simply pop them into the microwave to thaw – too easy! You can find the recipe for my Zucchini Slice here.
Apricot and Coconut Slice
With no added sugar, this is a great toddler snack recipe and is also a fun recipe to make with the kids.  Find the recipe below: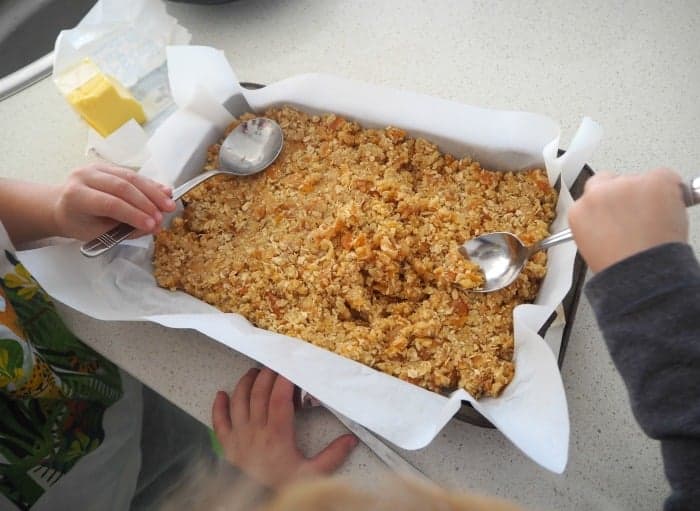 Apricot and Coconut Slice
Ingredients
100

g

of rolled oats

130

g

of wholemeal self raising flour

200

g

of dried apricots

50

g

of coconut

150

g

of butter

2

tablespoons

of rice malt syrup
Instructions
Preheat your oven to 180 degrees and line the base and sides of a 18 x 28cm slice tin with baking paper.

Place the oats, apricots, coconut and wholemeal flour into a large bowl.

Add the butter and rice malt syrup to a small saucepan and cook over a low heat until the butter has melted and the ingredients have combined.

Pour the melted ingredients into the bowl with the dry ingredients and use a large metal spoon to combine.

Pour the mixture into your prepared slice tin and place in the oven to bake for 25 minutes or until the top of the slice begins to turn a golden brown.

Remove the cooked slice from the oven and let it cool completely in the tin before removing and cutting into small bars.
Nutrition
Serving:
0
g
Calories:
0
kcal
Carbohydrates:
0
g
Protein:
0
g
Fat:
0
g
Saturated Fat:
0
g
Polyunsaturated Fat:
0
g
Monounsaturated Fat:
0
g
Trans Fat:
0
g
Cholesterol:
0
mg
Sodium:
0
mg
Potassium:
0
mg
Fiber:
0
g
Sugar:
0
g
Vitamin A:
0
IU
Vitamin C:
0
mg
Calcium:
0
mg
Iron:
0
mg
These snacks have all been a hit with my two boys and have already been requested several times.
If you are looking for more recipe ideas for this kids, make sure you visit Lunchbox Legends over at My Super Nanny.  As well giving you some great recipe ideas for the kids, My Super Nanny can also assist with your Nanny and Babysitting needs – perfect for people like us who don't have any family in the same state!  Since it's inception in 2010, My Super Nanny has quickly grown to become Australia's most trusted Nanny and Babysitting service as they truly understand that families come in all shapes and sizes. From the comfort of your own home, My Super Nanny will help match you with the local carer who best suits your needs, you can post live jobs and also search through thousands of Nannies online to find the one which is right for you and your family.
To learn more about My Super Nanny and LunchBox Legends, visit the website today.