This post is bought to you in collaboration with Kambrook
I'm always on the lookout for ways to make our meal prep easier, especially when I'm getting dinner ready during the 'witching hour' or hours as they seem to be at our place.  When we were recently sent Kambrook's 5 Cup Rice Cooker, I thought it was a good opportunity to create some family friendly recipes that would make our meal prep and dinner time just that little bit easier.
Given that I've never actually used a rice cooker before (yep I know!) learning how to use it was really simple and it took me no time at all to work it all out.  I decided to create an entire meal for our whole family using our Kambrook Rice Cooker to see just how it could save me time along with making enough food to feed us all.  While there are recipe ideas included in the instruction book, I also visited Kambrook's A Perfect Pantry website which has even more recipe ideas for some inspiration.  After reading through just a few of the great recipes on the site, I decided to put to use some of the ingredients we already had in our pantry and fridge and started off by making Mexican Rice with Chicken.
One of the great things about this recipe is that you can alter it it suit your the tastes of your family as well as use up any of those veggies which are lurking in the bottom of your fridge.  I used a fresh cob of corn simply because we already had one, but you could certainly use tinned corn kernels instead.  To begin with, I browned off the veggies and chicken in a frying pan before adding the rice, chicken stock and crushed tomatoes.  I then transferred it all to my rice cooker and let it do it's thing.
In no time at all our rice was cooked and dinner was ready.  I was a little shocked by just how much food we had and this recipe easily fed all four of us with leftovers for lunch the next day and a couple of portions popped into the freezer for the boys lunches.
 When making this, don't be alarmed by the amount of liquid there is when you first put your ingredients into the rice cooker, I admit I was a little worried at first, but the rice absorbed most of it leaving us with a yummy meal that we all enjoyed.
Mexican Rice with Chicken
Ingredients
1

tablespoon

of olive oil

1/2

brown onion thinly sliced

1/2

red capsicum

1

corn cob - kernels removed

1

can of red kidney beans - drained

200

g

of chicken breast - diced

2

cups

of chicken stock

1 1/2

cups

of long grain rice

400

g

tin of crushed tomatoes

1

teaspoon

of mexican spice mix
Instructions
Heat a large frying pan over a medium to high heat and heat the olive oil. Add the onion, capsicum and corn kernels and cook for 2 minutes before adding the chicken and reducing the heat to medium. Cook for for a further 2 -3 minutes before adding the spice powder and continue cook for another 2 minutes until the chicken begins to brown on the outside.

Add the rice and mix through the pan before cooking for 3 minutes.

Add the chicken stock, tinned tomatoes and drained red kidney beans and bring to a simmer before cooking for 3 minutes or until the liquid begins to reduce.

Carefully transfer the contents of your frying pan into the Kambrook non stick cooking bowl and close the lid. Set the control lever to 'Cook Rice' and cook until the unit automatically switches to the 'Keep Warm' function.

Carefully open the lid of the Rice Cooker and stir the contents before closing the lid and leave the rice to continue to absorb the liquid and keep cooking. Check the rice after a further 6 minutes and serve once cooked.
Because no family meal in our house is complete without dessert (it's also a great way to bribe the boys into eating their dinner!) I decided to try something a little different and make a Fudgey Chocolate Cake for dessert  in our Rice Cooker – yes you read that right!  This chocolate cake mixture is so simple to put together and it's so easy that the boys could almost do it themselves – if I let them of course!
I admit to being dubious as to whether this recipe would work, but am SO glad that I gave it a try. After serving up our Mexican Rice and Chicken I transferred the leftovers to containers and gave the Rice Cooker and bowl and quick clean before adding my chocolate cake mixture.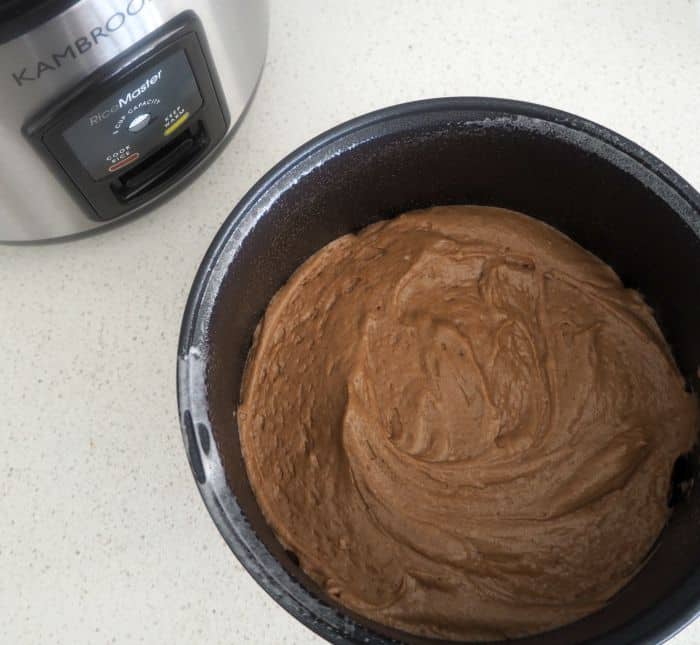 I then set our Kambrook Rice Cooker to 'Cook Rice' (or cake in this instance!) and let it do it's thing.  After the machine had automatically switched to the 'Keep Warm' function, it still continued to cook the cake.  Ten minutes later I set it to the 'Cook Rice' function again and then again let the cake continue to cook for another 12 minutes on the 'Keep Warm' function until the top of the cake had just set and still had a lovely chocolate wobble to it.  Thanks to the removable non stick cooking bowl, I was easily able to remove the Fudgey Chocolate Cake from the cooking bowl and turned it straight onto a serving plate.
Once the cake had cooled slightly, I covered it with a basic chocolate icing recipe, which you can find here and served the cake while it was still warm to make the most of the fudgey centre.
To make this Rice Cooker Fudgey Chocolate Cake, you will need:
80g of butter – melted
2 tablespoons of cocoa
2 eggs
1 teaspoon of vanilla essence
3/4 cup of caster sugar
1/2 cup of milk
1 1/4 cups of self raising flour.
Method:
Melt the butter and allow it to cool slightly.
Place all of your ingredients into a large mixing bowl and whisk to combine.
Pour the cake mixture into the Kambrook Rice Cooker non stick cooking bowl and set the machine to 'Cook Rice' function. Allow the cake to continue cooking for 10 minutes once the Rice Cooker has automatically switched to the 'Keep Warm' function before again switching it to 'Cook Rice'. Check your cake when the Rice Cooker automatically switches to 'Keep Warm' – you want the top of the cake to be just set so that it's still nice and fudgey in the middle. Continue to cook the cake on using the 'Keep Warm' function until the desired consistency is reached.
I admit I was surprised by the variety and quantity of food which can be cooked in the Kambrook 5 Cup Rice Cooker and we've also put the steaming tray to good use by making chocolate muffins (so moist!) along with an easy lunch of steamed chicken and veggies for the boys and I.  We've also got plans to make some steamed dumplings along with risotto in the very near future.  To learn more about Kamrbook's 5 Cup Rice Cooker along with their other appliances, you can visit their website or Facebook page and don't forget to check out A Perfect Pantry for loads of great recipe ideas.