This post is sponsored by Spotlight
With baby number 3 due in a few months time, I've been trying to make the most of the spare time I have left (not that there is much anyway with two very active boys!) and indulging myself in some of my favourite activities that I know I'm just not going to have a lot of time for in the near future. I took the opportunity a few weekends ago to spend some time with my poor neglected sewing machine putting together two easy baby sewing projects for our new bub.
I made the most of the boys and my husband heading out of the house for swimming lessons and visited our local Spotlight store (child free!) to wander the aisles looking at all the different fabrics and stock up on some cute prints to make a couple of play mats and muslin wraps for our new bub. I've made both of these before, not just for our boys but also as gifts for friends and family as I think there is something really special about giving homemade gifts. There is a special sense of satisfaction I get from making something like this easy baby play mat and baby swaddle wrap from scratch, and I actually find the act of putting these projects together quite relaxing (especially when the boys aren't around to 'help'!) and it's such a guilty pleasure to take some time out for myself and have fun being creative. Putting together these two projects has also given me the motivation to attempt a few more sewing projects over the next couple of months before our new baby arrives and the timing couldn't be better given April is National Craft Month at all Spotlight Stores.
Spotlight's National Craft Month aims to inspire people to unleash their inner creativity, no matter if it's crafting with the kids (which doesn't always have to be stressful!), trying something new or simply making something for the joy of it. This year Spotlight's creative focus is on mindfulness and the health benefits of craft activities – something I can certainly relate to.
I've put together two easy baby sewing projects for you and I promise you that this play mat and muslin wrap really are easy to make – in fact the hardest part of the entire process is trying to decide which fabrics you are going to use! If you looking for a great gift for a new baby, or simply want to get creative and make something special for your own kids, these Baby Play Mat and Baby Swaddle Wrap projects are for you.
Easy Baby Sewing Projects Number 1. Baby Play Mat
I've made a few of these now, and they honestly take no time at all to make. Spotlight has a great range of fun fabrics that are perfect for babies as well as toddlers and I always find myself buying more fabric than I had intended as I can never choose just one!
As well as using this as a baby play mat, it also makes a great blanket for the car, cot or to snuggle up with on the couch. I'm a big fan of using fabric from Spotlight's lLicensed quilting range (we've used Spot, The Hungry Caterpillar and SnugglePot and Cuddle Pie just to name a few in the past), but you can choose any fabric pattern you like.
To make this easy Baby Play Mat as pictured you will need:
1 metre of 112cm wide Dr Suess multicoloured alphabet fabric
1 metre of 112cm wide green polka dot poplin
1 metre of 120cm wide wadding
Scissors
White Cotton
Sewing Machine
Iron both the Dr Suess and polka dot fabric to remove any creases and measure and cut out the wadding to 112cm by 1 metre.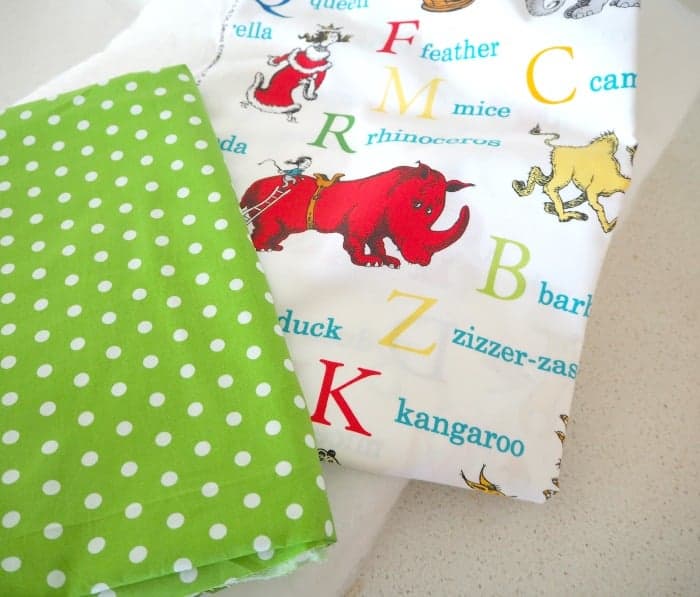 2. Pin together the two pieces of fabric and wadding with the right sides of the fabric facing each other – as shown.
3. Leaving a 1cm border, sew using a medium straight stitch around all three sides of the play mat. Sew the fourth edge and leave an opening of approximately 30cm.
4. Trim the edges of the play mat and cut the sharp edges off the corners – this helps the corners of the play mat to sit nicely when you turn it out.
5. Carefully pull the play mat through the opening you have left so that the right side of the fabric is showing.
6. Pin the edges of the opening together to enclose the play mat and hand stitch to close and you are all done!
Easy Baby Sewing Projects Number 2. Baby Swaddle Wrap
Whenever anyone asks me what my favourite baby items are, a large muslin wrap is always high on my list as they can be used so many different purposes aside from wrapping babies. I've used wraps for everything from bedding, as a window sun shade in the car, covering baby while in the capsule or pram, as a great cover for when feeding baby and they can also be used for those unexpected spills which occur all too often with a young baby.
To make this easy Baby Swaddle Wrap, you will need:
110cm of Premium Spot Printed Muslin in pale blue (138cm wide)
5.2 metres of pale blue Birch Bias Binding
Scissors
Pale blue cotton
Sewing machine
Iron the Premium Spot Printed Muslin and cut out a square 110cm x 110cm.
2. Fold the bias binding around the edges of the fabric and pin to keep in place. When pinning the binding around the corners of the muslin fabric, make sure you fold the binding to create a square corner and pin into place.
3. Using a straight stitch, sew along the edge of the bias binding, closest to the muslin material to attach – and that's it!!
Throughout the entire month of April, Spotlight is also running several amazing competitions including the chance to win a trip to Paris or win the ultimate craft pack. Across the country they will also be holding a number of events to celebrate all things creative, with their celebrations including workshops with scrapbooking creatives Becky Higgins and Lizzy Kartchner in stores across the country, a Crafty Party being held at all stores on Saturday the 23rd of April featuring DIY demos, free project sheets, great giveaways and prizes plus exclusive weekend only specials, so there really is no excuse not to unleash your inner creativity this month! To find out more about these celebrations and details for your local store, visit the Spotlight website today.