Many of you may know that when it comes to cooking magazines, I'm a bit of an addict. There is something about curling up in a quiet corner and immersing myself in the world of food that I can't resist.  It's my special place, and as I mark each recipe I want to try, or an article I've found interesting I feel happy and at peace.
I just love scones, and couldn't resist this recipe for an Easter Chocolate Scone Cake from the current issue of Taste Magazine. I have memories from my childhood of eating freshly baked scones, slathered in homemade apricot jam and to this day, this is still my favourite accompaniment. I was a little naughty when making this cake and used caramel filled eggs inside the cake and decorated it with chocolate eggs.  It's a really simple recipe and is just perfect straight from the oven with a cup of tea.  I hope you enjoy xx
You will need:
3 cups self raising flour – sifted
1/4 cup caster sugar
pinch of salt
300ml pouring cream
2 tablespoons of water
10 caramel filled easter eggs
7 mini chocolate easter eggs
milk to glaze cake.
* Preheat oven to 220 degrees and line the base and sides of a 22cm round springform tin.
* Combine the self raising flour, salt and caster sugar in a bowl.
* Add the cream and water to flour mixture and using a butter knife, gently mix together until dough forms.
* Turn dough onto surface dusted with flour and lightly knead.
* Divide dough into nine balls roughly the same size and one larger ball
* Place a caramel easter egg inside each ball and work the dough until the egg is covered.
* Place larger ball in the centre of the springform tin, and place smaller balls around it.  Decorate the top of cake with chocolate filled easter eggs.
* Brush cake lightly with milk and bake in oven on 220 degrees.
* After 10 minutes, reduce oven temperature to 200 degrees and bake for a further 15 minutes until lightly golden and cooked through.
* Cool in tin for 10 minutes before transferring to wire rack.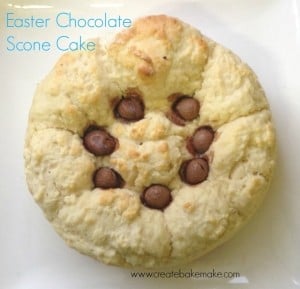 Linking up with the amazing Zanni from My Little Sunshine House for Sunshine Sundays – prompt Easter