Welcome!  Not only are we celebrating the end of another week, but it's also the last weekend of Winter!  Don't get me wrong, I do enjoy the cooler months.  I love indulging my cravings for slow cooked casseroles, puddings and roasts, but as the days are starting to get a warmer and a little longer, my appetite is changing and I find myself looking for lighter options.  Last week there were so many recipes that had my tummy rumbling, and several I've added to our meal planner for the week.
I've been on a Bliss Ball spree over the past few weeks, so I couldn't go past these Green Choc Power Balls from vegeTARAian. Who can resist a treat that tastes great and is actually good for you?!?
We are big fans of Bolognese, and I just love this Lentil Bolognese recipe from I Spy Plum Pie.  Such a great way to sneak some extra veggies into the kids.
A big welcome to The Annoyed Thyroid who joined us for the first time this week with a great recipe for Thermomix Berry and White Chocolate Muffins.  Thankfully conventional instructions are also included 😉
This Toblerone Cheesecake created by the lovely Stephs Joy would be the perfect way to end any meal.  Doesn't it look delicious?
It's no secret that I have a little love affair going on with all things caramel, so I was just a little excited to see this great guide on how to make your own Salted Caramel from Erin Made This.
Don't forget to pop over to Bake Play Smile to check out Lucy's favourite posts from last week.
This week I am sharing my recipe for a favourite childhood recipe – Cornflake Cookies.  I can still remember the first time I saw one of these, thinking how strange it was to see breakfast cereal in a biscuit.  My Nan used to make these for us on special occasions, and there was something about the crispy cornflakes scattered throughout the buttery biscuit that I just couldn't resist.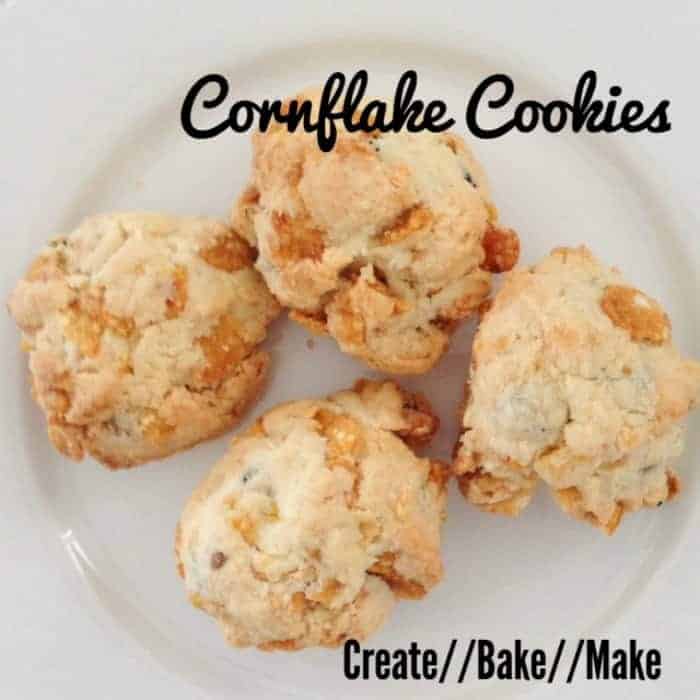 My version is a little different to my Nan's, I like to be a little naughty and add chocolate chips – because chocolate can only make everything better right?!?!  These biscuits are incredibly moreish, just try and stop at only one!
To make these yummy biscuits, you will need:
125 butter – softened
3/4 cup of caster sugar
2 eggs
1 teaspoon vanilla essence
1/4 cup of currants
1/4 cup of chocolate chips
1 cup of desiccated coconut
1/2 teaspoon bicarbonate of soda
1/2 teaspoon baking powder
2 cups of plain flour
3 cups of cornflakes
Preheat oven to 180 degrees and line two baking trays with baking paper.
Using an electric mixer, cream the butter and sugar until light and fluffy.  Add the eggs, one at a time and mix well between each addition.  Add the vanilla essence and beat until combined.
Transfer the mixture to a large bowl and stir through the currants, coconut and chocolate chips.
Fold through the sifted bicarbonate of soda, baking powder and flour with a metal spoon and stir until the mixture is almost smooth.
Add one cup of the cornflakes to the mixture and gently combine.
Pour the remaining two cups of cornflakes onto a plate and drop tablespoons of the biscuit mixture onto it, rolling into the cornflakes.
Gently place on the trays, allowing room to spread. Bake for 15 minutes or until crisp and golden.
Enjoy!
You're Invited!
Lauren from Create Bake Make & Lucy from Bake Play Smile have put their chocolate filled minds together, to bring you the newest and yummiest link up party in town…. Fabulous Foodie Fridays.
Each week we'll select 5 of our favourite recipes to feature on the following Fabulous Foodie Fridays link up party, so be sure to check back and see if your recipe is featured.
The rules for the party are simple:
1. Please only link up food or drink related posts. You can share up to 3 posts each week. They don't have to be recent posts, but please make them new to the 'Fabulous Foodie Fridays' party.
2. Simply add your links and they will automatically show up on both of our blogs… it's that easy!
3. It's sooo not a party without mingling…. please visit and comment on at least three other links that are near you in the list.
4. Follow us on social media so you can keep up to date with all the Fabulous Foodie Fridays goss!
Bake Play Smile:      Facebook    Instagram   Pinterest    Twitter
Create Bake Make:   Facebook   Instagram    Pinterest    Twitter
Fabulous Foodie Fridays:   Facebook    Instagram    Pinterest
5. Feel free to grab the Fabulous Foodie Fridays button and share the love around!
6. Leave a comment below so we know that you came and partied with us – we want to return the favour and visit you too.
* By adding your link, you are giving Bake Play Smile and Create Bake Make permission to post one photo from your post with a link back to the full recipe for party features and future roundups on our blogs and possibly share your image and link on social media. Oh and of course we will also let you know about upcoming Fabulous Foodie Fridays link parties!