These Coconut Pikelets make the perfect morning tea or lunch box treat!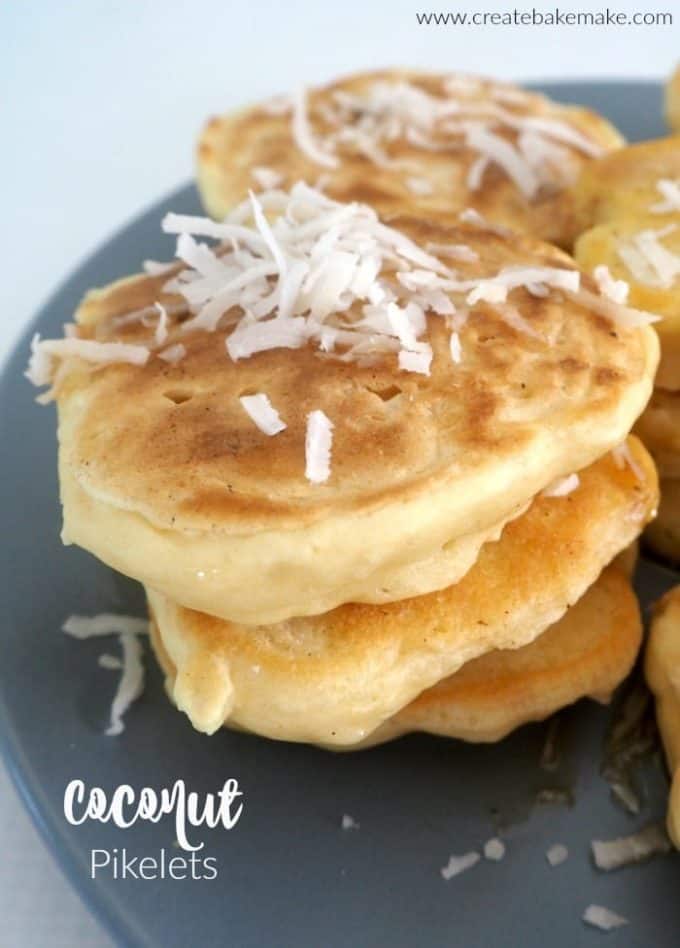 So 2017 seems to be the year where I'm finally finding my rhythm (well some of the time anyway!)when it comes to the whole work/life balance.  While working from home has it's benefits (and I wouldn't change it for the world) it's also hard to 'switch off' as there is always something to do, an email to respond to, posts to schedule etc.  I've been making a big effort to try and do my work when the boys are not around, so you'll find me in my office typing away in the early hours of the morning or while bub is asleep during the two days a week Mr 4 is at kindy and his big brother at school.  I'm by no means nailing it, or even close to finding the perfect balance, but I've been learning how to prioritise a bit better and most importantly I have started saying no a whole lot more – and it feels really good!
All of this is helping to give me more energy (and motivation!) to have fun with the kids and I'm especially keen to do a few special activities with Mr 4 each week while his brother is at school and when bub is asleep.  When he asked the other week if we could have a picnic for morning tea, I decided why not and together we made these easy Coconut Pikelets to enjoy in his tent.
Although I wasn't planning to do any 'work' that day, I couldn't resist taking a few photos of these yummy pikelets to share with you guys, and because he didn't want me to steal any (yep seriously!) Mr 4 had to stab his with a fork just so I wouldn't know which plate of pikelets was his.
He wanted to top his pikelets with strawberry jam and ate them with some blueberries, while I couldn't resist pouring a little maple syrup and shredded coconut over mine – and by the way I didn't eat all of the Coconut Pikelets in the photo below!
To give these their coconut flavour, we simply used coconut milk instead of regular milk and added ½ cup of shredded coconut to my favourite pikelet recipe.  These Coconut Pikelets will keep for a couple of days in the fridge (when stored in an airtight container) and they are also freezer friendly.
Coconut Pikelets
Ingredients
1 ¼

cup

190g of self raising flour

2

tablespoons

of caster sugar

200

ml

of coconut milk

60

g

of melted butter - cooled

1

egg

½

cup

of shredded coconut

Sprinkle of salt

extra butter to add to your pan.
Instructions
Sift the self raising flour into a bowl and stir through the caster sugar, shredded coconut and salt.

In a jug, add the coconut milk, egg and cooled melted butter and combine well with a small whisk.

Pour the liquid ingredients into the bowl with the flour and use a whisk to combine all of the ingredients.

Place a non stick frying pan on the stove over a medium high heat and add a little butter.

Place dessert spoon sized amounts of the mixture into the frying pan and cook for 1-2 minutes before carefully flipping over and cooking for a further minute.

Transfer the cooked Pikelets to a plate and cover with foil to keep warm.

Repeat (adding a little extra butter as needed) until you have used all of the mixture.

Serve Pikets with your favourite topping or keep in the fridge/freezer until required.
Notes
These Coconut Pikelets are freezer friendly.
Nutrition
Serving:
0
g
Calories:
0
kcal
Carbohydrates:
0
g
Protein:
0
g
Fat:
0
g
Saturated Fat:
0
g
Polyunsaturated Fat:
0
g
Monounsaturated Fat:
0
g
Trans Fat:
0
g
Cholesterol:
0
mg
Sodium:
0
mg
Potassium:
0
mg
Fiber:
0
g
Sugar:
0
g
Vitamin A:
0
IU
Vitamin C:
0
mg
Calcium:
0
mg
Iron:
0
mg
Thermomix Coconut Pikelets Recipe
Put the butter into your Thermomix bowl and cook for 2 minutes, 60 degrees, speed 2 or until melted.
Add the self raising flour, caster sugar, shredded coconut, coconut milk, egg and a sprinkle of salt and mix for 10 seconds on speed 5.
Preheat your frying pan with a little bit of butter over a medium high heat and add tablespoon amounts of the apple pikelet mixture.
When bubbles begin to appear on the surface of the pikelets, carefully flip them over and cook for a further 30 seconds on the other side before transferring to a plate and cover with foil to keep warm.
Continue until you have used all of the  pikelet mixture.
Serve these  pikelets warm with your choice of toppings.
Enjoy!
For more great snacks for the kids, check out our new Toddlers and Kids Recipe eBook here. You can also find our Snack Attack (Thermomix Version available here) and our Thermomix Lunchbox Recipes ebook in our store here.