I don't want to alarm anyone, but there are only five weeks left until Christmas!! Yikes! Now that our big boy is getting older, he is beginning to understand a little more about what's going on, so we are having some fun with Christmas activities and stories.
When Christmas decorations started springing up around our local shopping centre a few weeks ago, I couldn't help but get into the spirit and bought some Christmas craft supplies.  With an almost three year old and a 17 month old, our craft projects need to be pretty simple. This idea actually comes from my childhood, I can remember making Christmas wreaths with dried pasta and giving them to our Nan as gifts.
This is really good Christmas Craft project for kids, our big boy was very excited to play with the glue and had a heap of fun doing his "sticking".  We used a foam wreath I bought from Lincraft, however you could use any kind of wreath (or shape) that you like.
You will need:
A wreath – you can use a foam, wooden or wicker wreath – whatever you can find!
One pack of dried 'Bowtie' Pasta
Craft Glue
Gold Spray Paint
Ribbon to decorate
Glitter to decorate
Let's put it together!
Set up a clear workspace.  Place a handful of dried pasta on a plate, set up the glue and wreath and let your little one create!
After they have finished, place the wreath in a sunny spot to allow the glue to completely dry.
Take the dried wreath outside and spray with a light coat of gold spray paint.
Sprinkle some glitter over the wet paint to add some extra sparkle.
Tie a length of ribbon into a bow and attach to the wreath with some craft glue.
Allow glue to dry before hanging your wreath on the Christmas Tree or on your wall.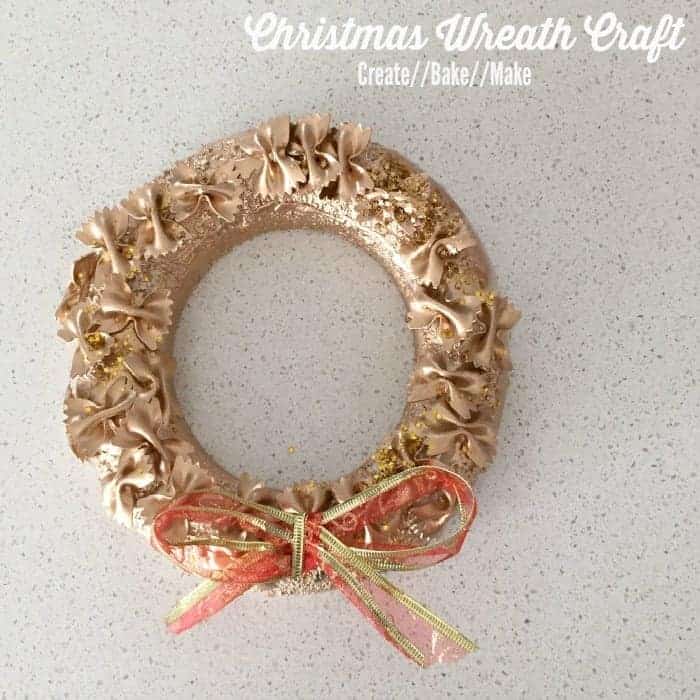 Have Fun!
What Christmas Craft projects do you remember creating as a child?