Father's Day was a bit of a bust in our house.  We started the day early, heading out to watch my husband race (he is a cyclist).  After spending an hour trying to keep the boys distracted (and off the track) I was relieved when the bell rang for the final lap and not just because my husband was in the leading pack!  Watching the group of lycra clad riders fly past the finish line and begin to take the first corner, I encouraged both the boys to watch their Daddy.  This was a good move until almost half the field came down just after the first corner.  Watching most of the guys starting to get up I couldn't see my husband.  I packed the boys up and began to walk over, noticing a group of people crowding around one guy who was still on the ground – my husband.
Thankfully he didn't break anything, instead he destroyed his riding kit and took the skin off most of his left side – but don't worry, the bike was OK!  He spent the morning feeling quite sore and sorry for himself – particularly after that first shower when he scrubbed the dirt and gravel out of all of his grazes and cuts.
While he and the boys were pottering around outside, I decided to make something a little special to help cheer us all up.  I had four Twix bars sitting in the pantry that I'd bought a couple of weeks before, with the best intentions of turning them into something delicious.  I've seen pictures of Twix Brownies floating around Pintrest, so I decided to try them for myself.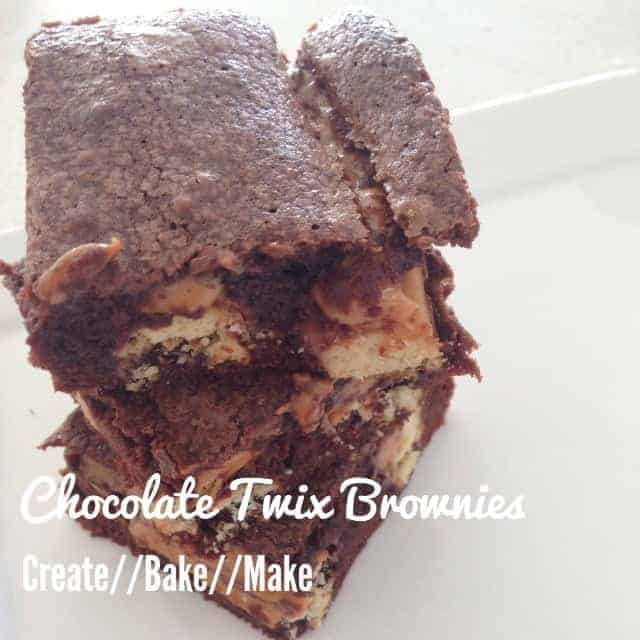 These Chocolate Twix Brownies were surprisingly easy to make, and you could probably add an extra Twix Bar if you really wanted to.  I loved the surprise of each bite and tasting the different flavours of the brownie, biscuit and caramel, which when combined together is just amazing.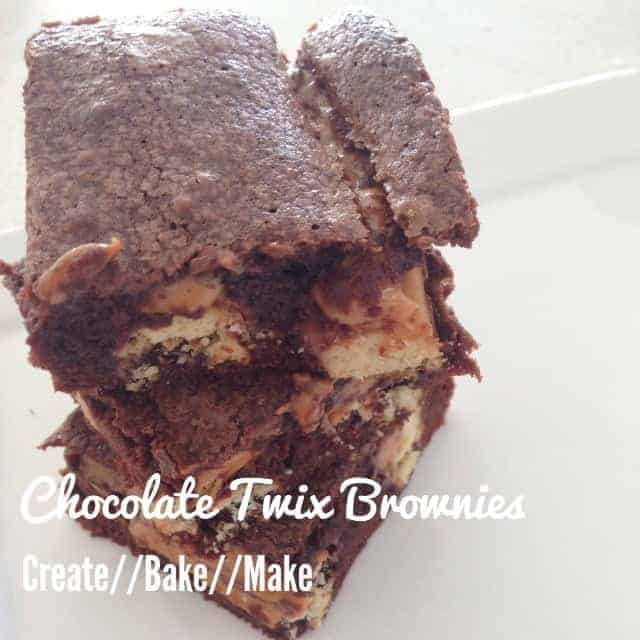 Chocolate Twix Brownies
Ingredients
150

g

unsalted butter

1

cup

of caster sugar

¾

cup

of cocoa

1

teaspoon

of vanilla extract

3

eggs

½

cup

plain flour

4

Twix bars
Instructions
Preheat your oven to 160 degrees and line the base and sides of a 20cm baking tin with baking paper.

In a small saucepan, melt the butter, cocoa and sugar over a low heat - stirring continuously.

Transfer melted ingredients to a large mixing bowl and add the vanilla essence and egg  whisking well.

Sift the flour over the mixture and whisk to combine.

Spoon half the mixture into the cake tin and carefully place the Twix Bars on top.

Add the remaining brownie mixture to cover the Twix Bars and pop into the oven and bake for 30 minutes.

Allow Brownie to cool in the tin before removing, cut Brownie into small (or large!) pieces and enjoy!
Nutrition
Serving:
0
g
Calories:
0
kcal
Carbohydrates:
0
g
Protein:
0
g
Fat:
0
g
Saturated Fat:
0
g
Polyunsaturated Fat:
0
g
Monounsaturated Fat:
0
g
Trans Fat:
0
g
Cholesterol:
0
mg
Sodium:
0
mg
Potassium:
0
mg
Fiber:
0
g
Sugar:
0
g
Vitamin A:
0
IU
Vitamin C:
0
mg
Calcium:
0
mg
Iron:
0
mg
While he didn't come out and admit it, I know my husband also thought these were pretty special, I noticed him sneaking a piece from the cake tin many times during the course of the afternoon.  It's a big call, but this is quite possibly the best Brownie Recipe I have ever made.  I'd love to hear what you think!
How was your Father's Day? What is your favourite Brownie recipe?