Even though I really enjoy making the majority of our meals and treats from scratch, if there is an option that will make my life easier, there is a fair chance I'm going to take it!  A little while ago I was asked to make some cupcakes for a morning tea and although I had the best intentions of creating something completely from scratch two little people life got in the way and time was running out.
That's where these Chocolate Oreo Cupcakes come in. The cupcake itself is a simple chocolate muffin recipe with a yummy Oreo biscuit hidden in the middle. They look pretty impressive if I do say so myself, but they honestly took around 45 minutes (aside from cooling time) to put together.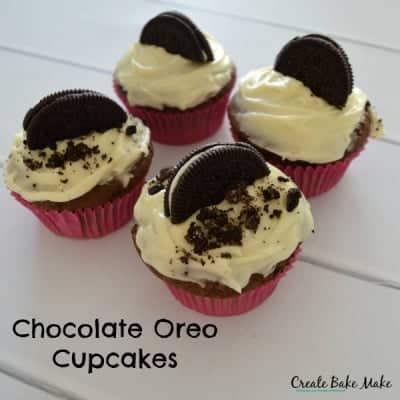 When it came time to decorate these Chocolate Oreo Cupcakes, I took a little shortcut and used store bought vanilla frosting and the leftover Oreos (apart from two I may have just had to taste test along the way) to decorate them – easy peasy!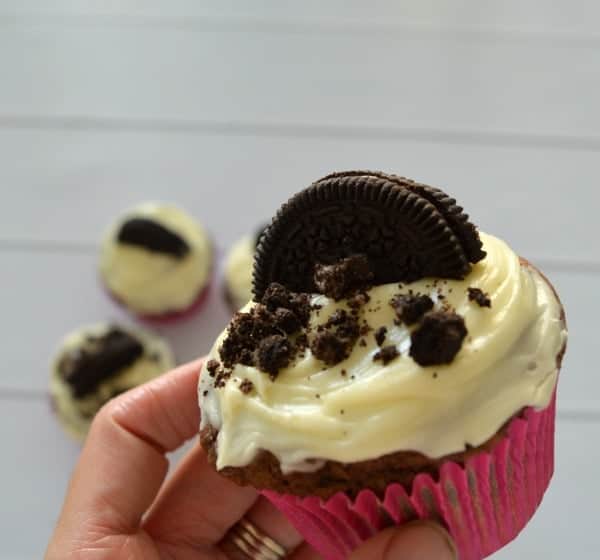 Chocolate Oreo Cupcakes
Ingredients
2 1/2

cups

self raising flour

1/3

cup

cocoa powder

1/2

teaspoon

bicarbonate of soda

2/3

cup

caster sugar

1 1/2

cups

milk

2

eggs

150

g

unsalted butter

melted and cooled

1

box of Oreos

Vanilla frosting
Instructions
Lightly grease and line two muffin trays with paper cases as the mixture will make approximately 18. Preheat your oven to 200 degrees

Into a large bowl, sift the flour, cocoa and bicarbonate of soda. Add the sugar and stir through and create a well in the centre.

In a jug, whisk together the milk and eggs before pouring into the well. Add the melted butter and fold gently using a metal spoon. Make sure you don't over mix, you want the mixture to still be a little lumpy.

Spoon the mixture into paper cases until they are around 1/4 full and place an Oreo in the middle. Cover the Oreo with more cupcake mixture and fill the paper case until it's 2/3 full.

Bake for 18 minutes, or until cupcakes have risen and are cooked through when tested with a skewer.

Leave the cupcakes to cool in the tins for 10 minutes before transferring to a wire rack and allow them to completely cool.

While the cupcakes are cooling, carefully cut 9 (or however many you need to decorate all of your cupcakes) in half.

Using a spatula, cover the top of the cupcake with vanilla frosting and place half an Oreo cookie on top to decorate.
This is also a great recipe for little people to help you out with, although you will have to watch them carefully to make sure no Oreos go missing!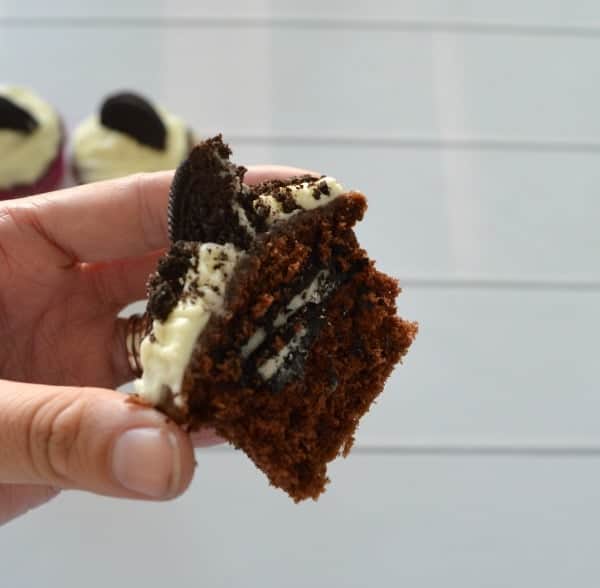 What are your baking shortcuts?