I really need to work on my willpower.  Whilst we were away, I was at the supermarket to just pick up some milk and bananas and somehow ended up with $30 of groceries – does anyone else do that?
Amongst my haul were three Crunchie Bars which were a bargain at 99 cents each.  I've now made a few versions of this slice, but never using Crunchies.  I decided to make the slice for my little nephew's first birthday and thankfully there was some left after someone decided to hack into the slice while it was still setting in the fridge.
This Chocolate Crunchie Slice is all kinds of amazing and thankfully there was enough left over to put on a plate and take along to the party and given there were just a few crumbs left on the plate at the end of the night I think it was a success!
Chocolate Crunchie Slice
Ingredients
200

g

of Marie Biscuits

3

x Crunchie Bars

½

tin of condensed milk

100

g

butter

200

g

block of milk chocolate
Instructions
Line a slice tray with baking paper, making sure you leave paper hanging over the edges.

Crush the Marie Biscuits and pop them into a large bowl - you can use a food processor, but I just whack them with a rolling pin.

Melt the butter in the microwave and set aside to cool slightly.

Chop the Crunchies into small pieces.

Add the condensed milk (half a tin), butter and Crunchie to the crushed biscuits. Using a metal spoon mix to combine.

Pour mixture into the slice tray and using a metal spoon, spread mixture across slice tray and press down - I find it easier to use two spoons.

Break the milk chocolate into small pieces, place them in a microwave safe bowl and melt - I cook it for 30 second spurts and mix in between.

Pour melted chocolate over the top of the slice and place in the fridge for 2 hours to set.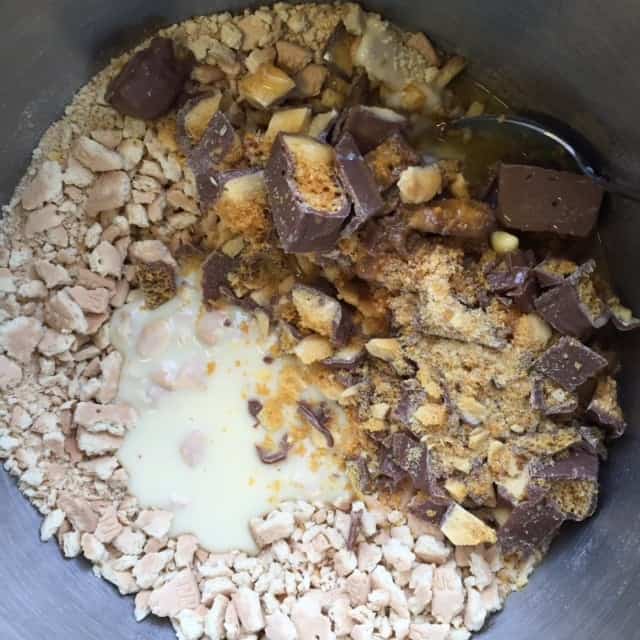 What is your favourite chocolate bar?