Last week I came clean about my food magazine addiction, so it should come as no surprise that this recipe is from the latest edition (and only the second ever) of the taste.com.au magazine.  This recipe caught my eye for a few reasons: no baking required and it contained oreos and crunchy peanut butter (crunchy is my favourite).
It took some searching to find the chocolate coated pretzels (luckily my husband has the woolworths app on his phone), they are NOT with regular pretzels/chips etc, instead they are in the confectionary aisle as they are made by Cadbury (and they are SUPER yummy)!
I found this a good recipe to make if you've got kids running around.  You complete a couple of steps and then it goes in the fridge – perfect if you are making it around dinner time (it had been a busy day and I wanted to take it to a baby shower the following morning).
The end result was great.  I waited until the top chocolate layer had almost set and then cut it into pieces, as the chocolate was quite thick and I was worried it would be too hard to cut. As suggested I cut it into one pretzel sized pieces.  It is very rich though, and you could probably get away with just half a slice.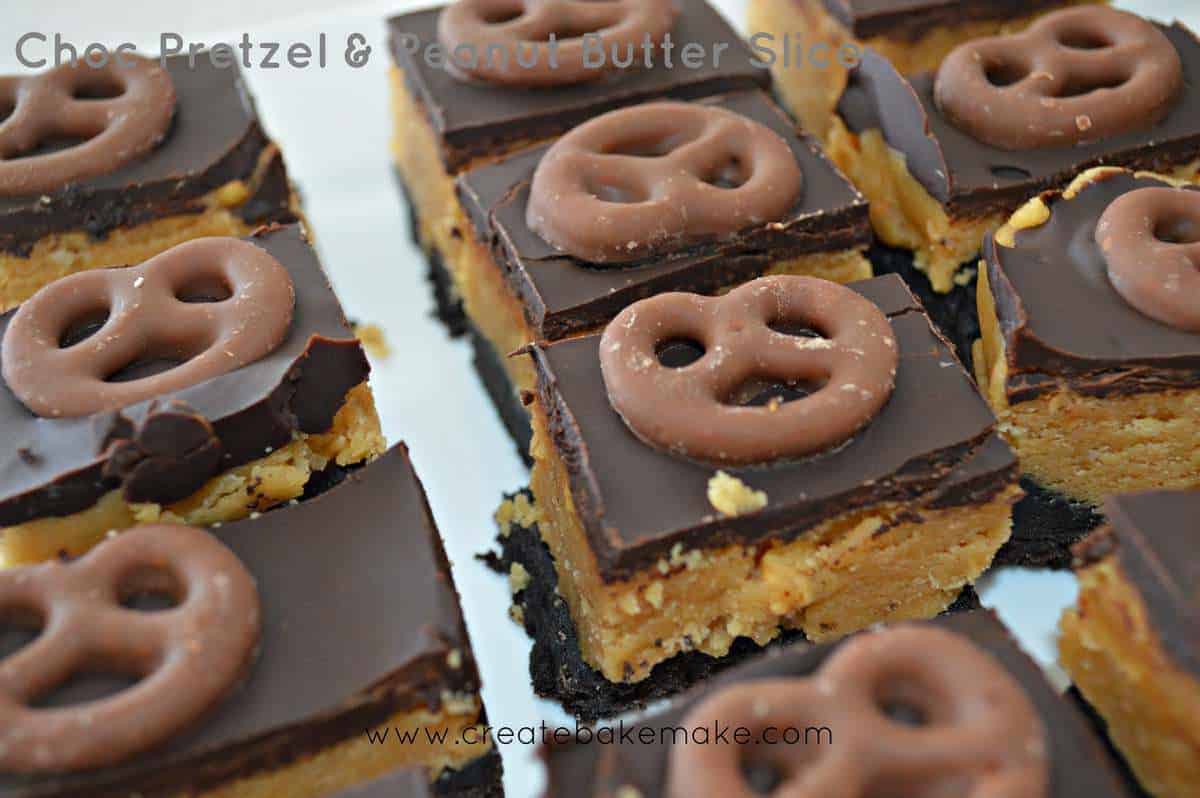 1 bag (110g) choc coated pretzels
2 cups crunchy peanut butter
165g butter softened
2 packets of Oreo Classic biscuits
1 1/3 cups icing sugar mixture
200g dark chocolate – finely chopped
1/4 cup milk
2 teaspoons vegetable oil
Grease and line a 20cm square cake pan with baking paper
Melt 125g of the butter. Process the biscuits until crushed, add the melted butter to combine. Spread firmly over base of pan and put in the fridge for 30minutes
Using electric beaters – beat peanut butter, icing sugar, remaining 40g of butter and milk until well combined (it will look crumbly). Spread over base and use the back of a spoon to pat down firmly. Put slice back in the fridge for 2 hrs or until firm
Place chocolate and oil in a bowl and microwave on medium heat, stirring occasionally until chocolate has melted, spread over the slice.  Place pretzels in lines on top of slice and put back into the fridge for an hour or until set.
Cut slice, using pretzels as a guide into small pieces.