All weekend I had been gearing myself up to make risotto, and not just any risotto but my Cheesy Corn, Pea and Pumpkin Baked Risotto, using the fail safe Donna Hay Baked Risotto recipe as a base.  I was convinced we  had all the ingredients in the pantry, and didn't bother to check anything.  I was so certain I had everything I needed, that  I roasted the pumpkin, cooked the onion, garlic and corn and added them to the casserole dish before wandering into the pantry to get the stock – but it wasn't there.  Telling myself it must be sitting right in front of me and I just wasn't seeing it, I turned the pantry upside down.  Still no stock.
As my frustration grew, I became more determined to either find the stock, or something I could use as a substitute.  When I came across a Continental Chicken Curry pack I thought I could just use this as a substitute.  However as this recipe called for 5 cups of stock, I thought I might be skimping on flavour so I also added 1 pack of Continental Creamy Chicken and Corn Soup – without the croutons 🙂
With my frustration beginning to subside, I got on with adding the remaining ingredients for this risotto – 2 cups of arborio rice and 1 cup of frozen peas.
I was feeling cautiously optimistic when I combined the two continental packets with four cups of water.  When you add the liquid, be prepared it is going to look as though you have put in WAAAAY too much.  Relax, it's ok!
I preheated our oven to 190 degrees (fan forced) and baked the risotto (with the lid on) for 40 minutes.  I then removed it from the oven, added parmesan cheese, butter, salt and pepper before putting it back into the oven for a further 45 minutes – until the rice had cooked through.
I was a little worried that what the flavour was going to be like, but there was no need.  You could certainly taste the curry, but it was very mild and I had no concern giving it to the boys. It ended up being a popular meal in our house, both the boys ate all of their dinner and my husband and I both enjoyed it.  There was more than enough for leftovers the next day, which I always love.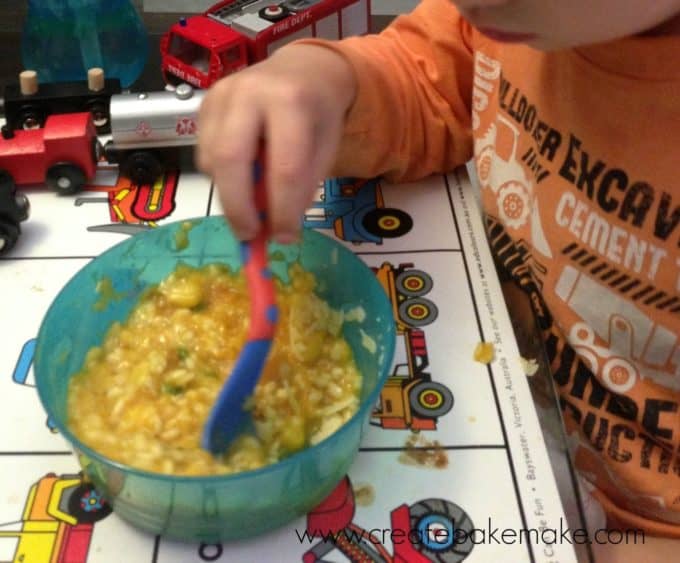 This is such a great base recipe, you can really add as much (or as little) to it as you like.  What I really love about it though, is that it really doesn't require much work (as long as you have everything you need in the pantry) to get a yummy meal on your plate – or bowl if you prefer!
I've since made a few different variations of this recipe, and have started using packet soup mixes instead of stock – we've discovered some great flavours!

Here is what you need to make this at home:

Cheesy Corn, Pea and Pumpkin Baked Risotto
Ingredients
2

cups

of arborio rice

4

cups

of water or 5 cups of stock if you prefer.

1

packet of Continental Creamy Chicken Curry

1

packet of Continental Creamy Chicken & Corn Soup

750

g

of pumpkin

peeled and cubed

Olive oil

1

brown onion

2

cloves

of garlic

1

cup

of corn kernels

frozen or fresh

1

cup

of frozen peas

¾

cup

of parmesan cheese

finely grated

salt & pepper to taste

Extra cheese to serve
Instructions
Preheat oven to 190 degrees (fan forced)

Toss pumpkin pieces in olive oil and place on an oven tray and bake for 45 minutes or until browned.

Meanwhile add the onion, corn kernels and garlic to a frypan and cook over a medium heat until the onion is translucent. Remove from heat and set aside until needed.

Add contents of both the continental packets into a bowl and add four cups of water - stir to combine.

In casserole dish add the rice, frozen peas and cooked pumpkin, onion and corn. Pour liquid into the dish and carefully stir to combine.

Put lid on the casserole dish and put into the oven to bake on 190 degrees.

Bake for 40 minutes, remove dish from oven and stir through the parmesan cheese, butter and salt and pepper. There will still be quite a lot of liquid in the dish, put back in the oven (with no lid) and bake for a further 30 minutes, or until the rice has cooked through.

Remove from oven and let stand for 10 minutes before serving.

To serve, sprinkle with extra cheese and enjoy!
Nutrition
Serving:
0
g
Calories:
0
kcal
Carbohydrates:
0
g
Protein:
0
g
Fat:
0
g
Saturated Fat:
0
g
Polyunsaturated Fat:
0
g
Monounsaturated Fat:
0
g
Trans Fat:
0
g
Cholesterol:
0
mg
Sodium:
0
mg
Potassium:
0
mg
Fiber:
0
g
Sugar:
0
g
Vitamin A:
0
IU
Vitamin C:
0
mg
Calcium:
0
mg
Iron:
0
mg
Have you ever had to substitute ingredients when making something? How did it turn out?
Linking up with The Multitasking Mummy for Mummy Mondays.