A few weeks ago I stumbled across a recipe for Caramel Crunch Brownies by Donna Hay.  The thought of a rich chocolate brownie topped with a gooey and delicious caramel filling and then the added crunchy texture was just too good to resist, and I was at the supermarket the next day buying the ingredients.
It wasn't until a few days later that I finally had the chance to make this slice, and whilst the original recipe  looked amazing, I couldn't resist putting my own spin on it instead and created this Caramel Crunch Slice.  There are a few processes in the original recipe, so I decided to try and simplify it by incorporating the 'crunch factor' into my favourite caramel slice recipe – which also happens to be from Donna Hay!
It took two attempts to come up with the perfect combination of ingredients.  For my first attempt, I simply added two cups of Rice Bubbles to the original recipe, and while it still tasted amazing, there was a little too much caramel and I overflowed the tin…   Determined to make it work, I decided to half the caramel filling and still use two cups of rice bubbles.  The result was a perfect balance of biscuit base and gooey caramel with a yummy crunch.  This slice is best eaten within a day or two of making it, if you leave it any longer it will still taste delicious, but you will find the rice bubbles lose some of their crunch.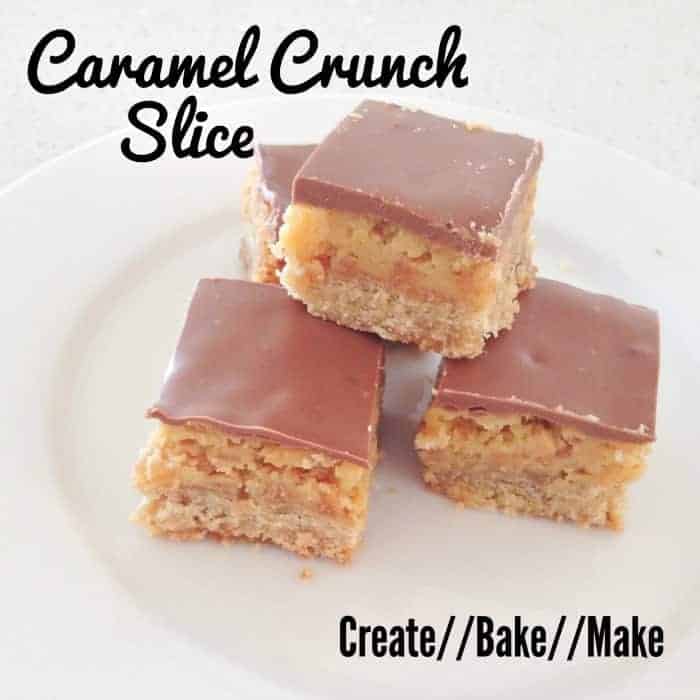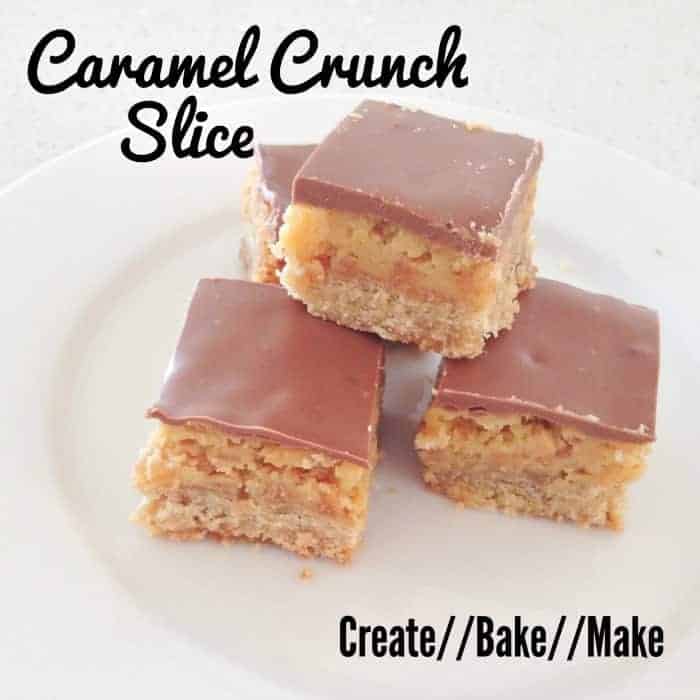 Caramel Crunch Slice
Ingredients
For the base you will need:

1

cup

of plain flour

½

cup

of desiccated coconut

½

cup

of brown sugar

125

g

of melted butter

Then for the delicious filling:

¼

cup

of golden syrup

60

g

of melted butter

1

x 395g tin of condensed milk

2

cups

of rice bubbles

or similar

To top it off

you just need:

200

g

block of milk chocolate

1

teaspoon

vegetable oil.
Instructions
Preheat your oven to 180 degrees. Line a slice tin with baking paper, leaving paper overhanging the sides.

In a bowl, combine the flour, coconut, sugar and butter and mix together. Spread the mixture over the base of the lined slice tin, and using the back of a spoon press down and flatten the surface. Place in the oven and bake for approximately 15 minutes or until it starts to brown.

Meanwhile you can start the caramel filling. In a small saucepan, add the golden syrup, butter and condensed milk and stir over a low heat for 8 minutes or until the caramel has thickened slightly. Add the rice bubbles and gently mix together. Pour over the cooked base and put back in the oven for another 20 minutes or until the caramel is golden. Remove from the oven and allow to cool for approximately 10 minutes.

Melt the milk chocolate and vegetable in the microwave, cooking for 30 second spurts until the chocolate has just melted. Stir, and pour over the slice. You will need to carefully tip the tray up at each end to completely cover with chocolate. Place the slice in the fridge to cool completely.

Cut into small squares and enjoy!  I think the slice is best eaten within 24 hours, as the rice bubbles lose a little of their crunch after a few days - it still tastes delicious though!
Nutrition
Serving:
0
g
Calories:
0
kcal
Carbohydrates:
0
g
Protein:
0
g
Fat:
0
g
Saturated Fat:
0
g
Polyunsaturated Fat:
0
g
Monounsaturated Fat:
0
g
Trans Fat:
0
g
Cholesterol:
0
mg
Sodium:
0
mg
Potassium:
0
mg
Fiber:
0
g
Sugar:
0
g
Vitamin A:
0
IU
Vitamin C:
0
mg
Calcium:
0
mg
Iron:
0
mg
Enjoy!
Love Caramel? Check out these other great Caramel recipes: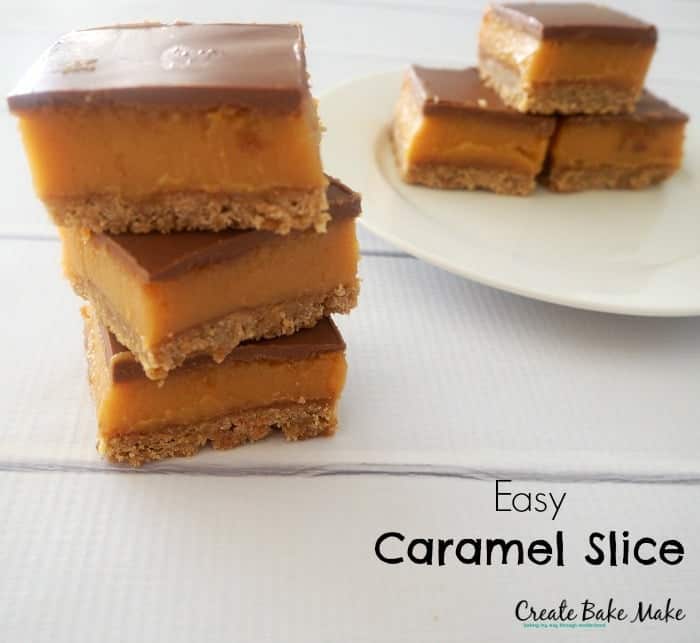 Caramel Lattice Cheesecake Slice
Linking up with The Multitasking Mummy for Mummy Mondays