This post is sponsored by Spotlight
As much as I like baking cakes, I absolutely LOVE decorating them!  As crazy as it sounds, I actually find the whole process of cake decorating to be relaxing, after all it's all about having fun and being creative.  So when I was asked by Spotlight if I'd be interested in having some fun with a few products from their Cake Boss range, I was just a little excited – after all Cake Boss is one of my favourite shows!
The Cake Boss range has everything you could ever need or want when it comes to making and decorating cakes.  They have a huge range of different size and specialty shaped cake tins, baking utensils such as whisks, sifters and cooling wracks and everything you will ever need for cake decorating and if that wasn't enough of an incentive to check out the Cake Boss range, if you spend $20 or more on Cake Boss products at any Spotlight store between now and the 29th of November, you can go into the draw to win a trip to New York (see end of post for further competition details) plus a Cake Decorating Class from the home of Cake Boss – Carlo's Bakery!
Today I want to help you start to love cake decorating like I do and show you how using just a few of the right tools can make it so easy to put together a stunning cake, which will be perfect for your next special occasion – or just because as who needs an excuse to make cake?!
Putting together a pretty layered cake is actually quite simple, it's all about breaking the project down into small steps. Today I'm taking you through my cake decorating basics on how to put together a layered butter cake with buttercream and fondant flowers.
1  The day before you plan to decorate your cake, bake two butter cakes – find the recipe here. I find it easier to ice a day old cake where it's outer layer has dried out just a little.
2. When it comes time to decorate your cake, get out EVERYTHING you need and place it on your work bench.
3. I use this recipe when making buttercream and double it to make enough buttercream to cover 2 x 20cm cakes and have enough leftover for piping.
4. Slice your cakes evenly in half and trim the top of the cakes to remove any 'domes'  if needed. Place one on the plate/cake stand you wish to use before placing onto a turntable  – if using. Spread approximately 1/3 of a cup of butter cream over the cake before placing the next layer on top. Repeat until you have stacked all of your cakes. To give the top of your cake a smooth finish, place the base layer of one of your cakes last.
5. Cover sides and top of your cake with buttercream and use a cake scraper to give a nice smooth finish.
6. Select the piping nozzle you wish to use and attach it to your piping bag.  Half fill the piping bag with buttercream and gently shake the piping bag so that the buttercream moves towards the end.  Twist the piping bag just above the buttercream to make sure none spills out while piping and gently push down just under where you have twisted the piping bag to get the buttercream to come out.  Have a couple of practice runs on some paper towel before you begin to pipe around the bottom and top edges of your cake.
7. To make the cute flowers for this cake, I used the small Gerbera Plunge Cutter from the Cake Boss Cake Decorating Kit. All you need to do is roll out your coloured fondant (You can buy small packets of fondant which has already been coloured) and press the plunger down before releasing to create your flowers.  I then added some 'bling' (aka silver cachous) to the centre of my flowers.
8. Then I carefully placed the fondant flowers around the edges and on top of my cake, I used 8 flowers to decorate this cake – and that's it!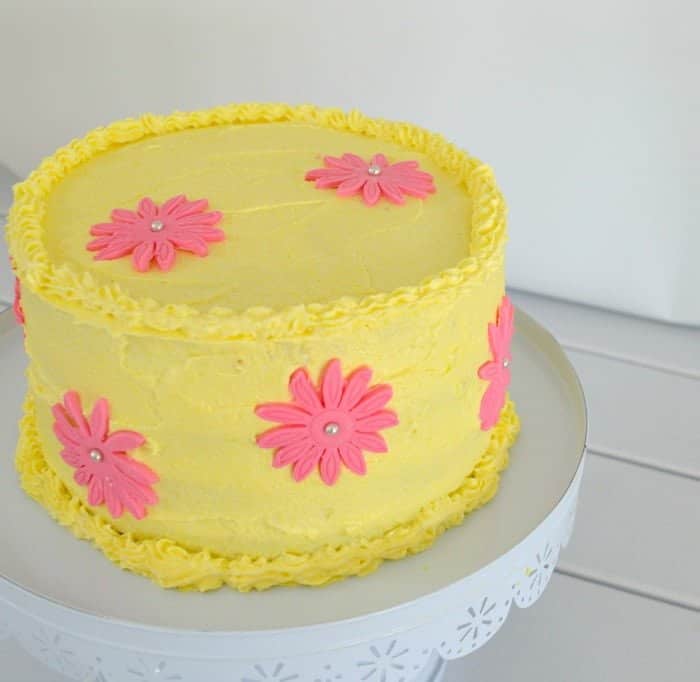 As you can see creating a fun layered celebration cake isn't as hard as you think, this cake honestly took less than an hour to decorate, and that includes making the icing. It's all about having a few of the right tools to help you and some of my favourite cake decorating tools include:
A good quality piping bag and nozzles
A couple of different sized spatulas to spread the buttercream
A cake scraper to give your cake a nice smooth finish
Plunge Cutters to help you achieve professional looking fondant decorations and shapes
A metal egg flip to help you pick up your fondant shapes
Paper towel – to clean up any mess, wipe down your cake plate as you go.
Turntable – while optional, a turntable makes it so much easier to pipe and decorate a cake.
If I still haven't convinced you to give cake decorating a try, here are my top tips for cake decorating basics to make the whole process even easier:
When working with fondant, try not to handle it too much as it will go sticky.  Sprinkle a little cornflour over your bench to help make it easier to roll and cut.
When colouring your buttercream, I like to use gel food dye as you need less to achieve more vibrant colours.
Have everything you need set out on your bench BEFORE you start, this saves you having to stop what you are doing and go searching for things.
Use a good quality piping bag as there is NOTHING worse than your piping bag splitting when you begin to pipe.
Have fun!
There is no better time than now to get your cake decorating fix by popping into Spotlight to check out their great range of Cake Boss products and score yourself the chance to win flights and 5 nights accommodation in New York for two people along with a 2 hour cake decorating class with the guys from Carlo's Bakery!  Entry is simple, spend $20 or more (make sure you keep your proof of purchase as you will need it if you are the winner!) on Cake Boss products at any Spotlight store between now and the 29th of November, and fill in the entry form at www.cakebossbaking.com.au/winatrip.  Best of all you can enter multiple times, so what are you waiting for?!
Do you love cake decorating too?  Have I convinced you that it's easier than you think?