I was never a huge fan of bread and butter puddings when I was growing up, the though of soggy bread being passed off as a dessert was enough to turn me off.  It wasn't until a few years ago that I actually tasted bread and butter pudding for the first time and was surprised by just how good it actually tasted.  Since then I've experimented with a few different bread and butter pudding recipes and came up with with this variation of this classic dessert – Apple and Almond Croissant Pudding.
This croissant pudding is the ultimate in winter comfort food desserts thanks to the buttery croissants soaked in thick creamy custard.  To make it a little more interesting, I like to add a handful of currants along with thinly slice apple pieces and flaked almonds to make this one of the best winter desserts going around.
Apple and Almond Croissant Pudding
Ingredients
6

medium croissants

900

g

tub of Pauls Thick and Creamy Custard

50

g

of flaked almonds

2

granny smith apples

½

cup

of currants

2

tablespoons

of caster sugar
Instructions
Cut the croissants in half and peel and slice the apples into VERY thin slices - so thin you can almost see through!

Arrange half of the croissants over the base of a 20cm square oven safe dish. Place the apple slices and ¼ cup of currants over the top and sprinkle with 1 tablespoon of the caster sugar.

Pour half of the custard over the top of the mixture.

Place the remaining croissants on top of the dish and pour over the remaining custard. Let the mixture sit at room temperature for 1 ½ hours to allow the custard to soak into the croissants.

Preheat your oven to 170 degrees.

Sprinkle the remaining currants and flaked almonds over the top of the soaked croissants and sprinkle with the remaining tablespoon of caster sugar.

Place the dish into your preheated oven and bake for one hour or until the top of the pudding begins to turn golden.

Carefully remove the pudding from the oven and let it sit for 10 minutes before cutting to serve.
Nutrition
Serving:
0
g
Calories:
0
kcal
Carbohydrates:
0
g
Protein:
0
g
Fat:
0
g
Saturated Fat:
0
g
Polyunsaturated Fat:
0
g
Monounsaturated Fat:
0
g
Trans Fat:
0
g
Cholesterol:
0
mg
Sodium:
0
mg
Potassium:
0
mg
Fiber:
0
g
Sugar:
0
g
Vitamin A:
0
IU
Vitamin C:
0
mg
Calcium:
0
mg
Iron:
0
mg
The key to the success of this recipe is leaving your pudding to soak for as long as you possibly can before putting into the oven as you want the custard to soak into the croissants.  This is also one of those desserts which is just as good, if not a little better when heated up and enjoyed the next day.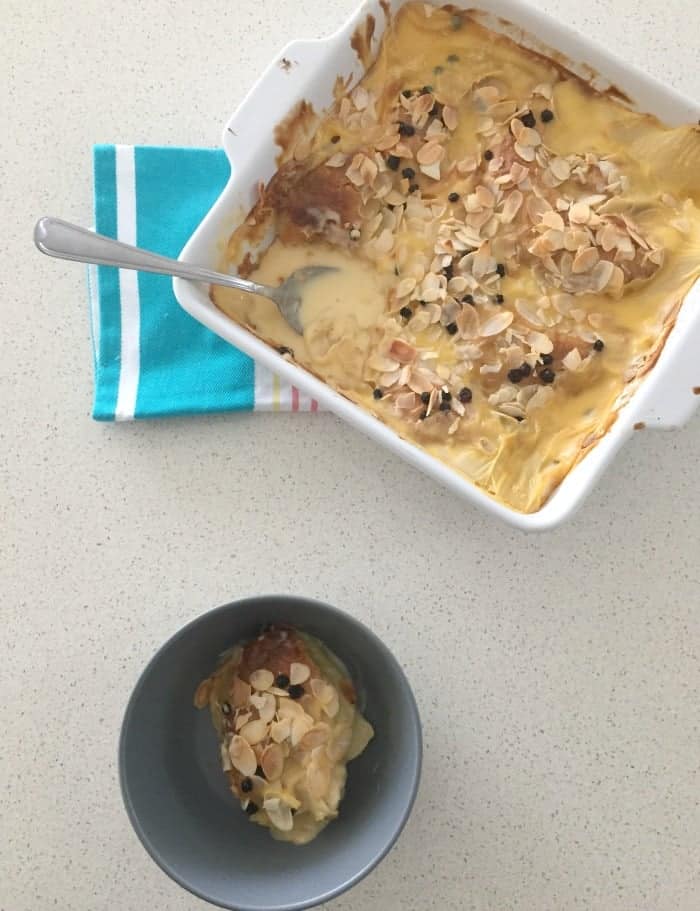 What is your favourite Winter dessert?