A couple of weeks ago we headed down to Rainbow Bay on the Queensland/New South Wales Border for four gorgeous days – which was certainly nowhere near long enough!.  We used to visit the area regularly when we were kids and I love that I can now take my three boys back there for holidays.
Rainbow Bay is at the southern end of the Gold Coast and is literally right on the border with New South Wales, in fact one side of the street we stayed on was in Queensland and the other was in New South Wales!  In my opinion it's perfect for families, especially those with young kids as it's a calm beach (perfect for kids), it's also really family friendly with a lovely quiet atmosphere and you can also walk everywhere (including to the supermarket at Tweed Heads) if you want to.
We spend most of our days alternating between the beach and the pool where we were staying but there was also lots of other things for us and the kids to do too and I've put together a list of 5 things to do in Rainbow Bay with kids in the hope you can visit there soon!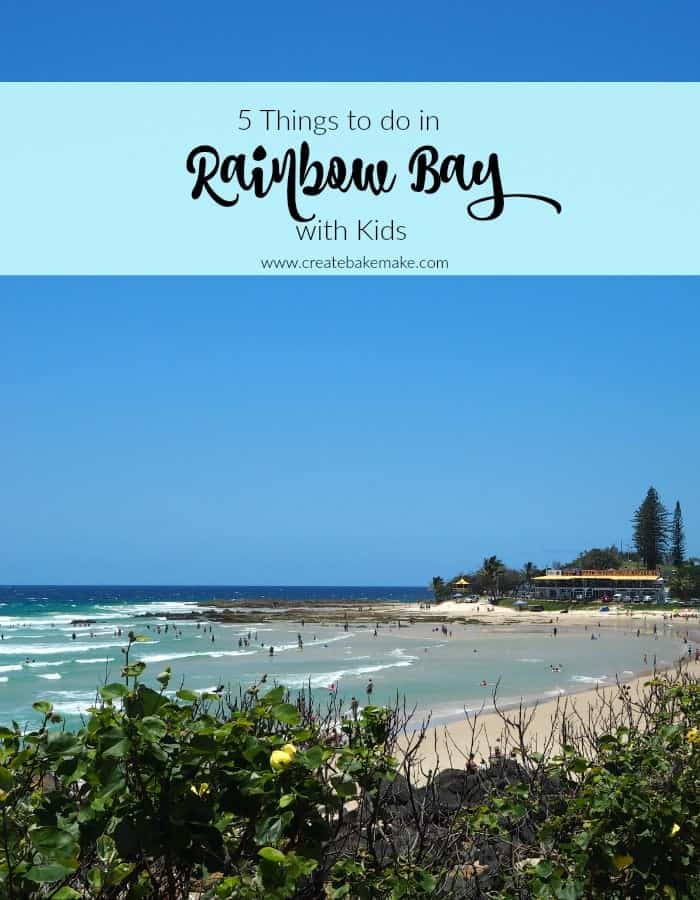 Climb Greenmount Hill
The stairs might look intimidating but both of our boys (five and three) made the trek up to check out the AMAZING view, it's really worth it.
Explore the Rock Pools
As the tide goes out at the southern end of Rainbow Bay, it exposes a large area of rock pools and even 'private' beaches that the kids will love exploring – and even swimming in!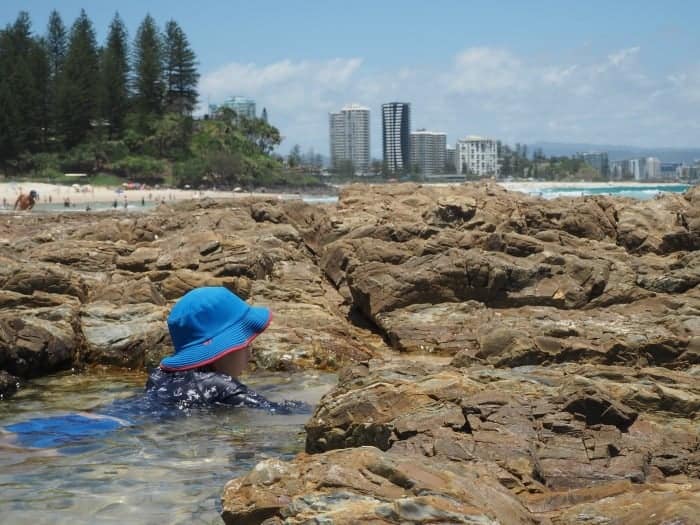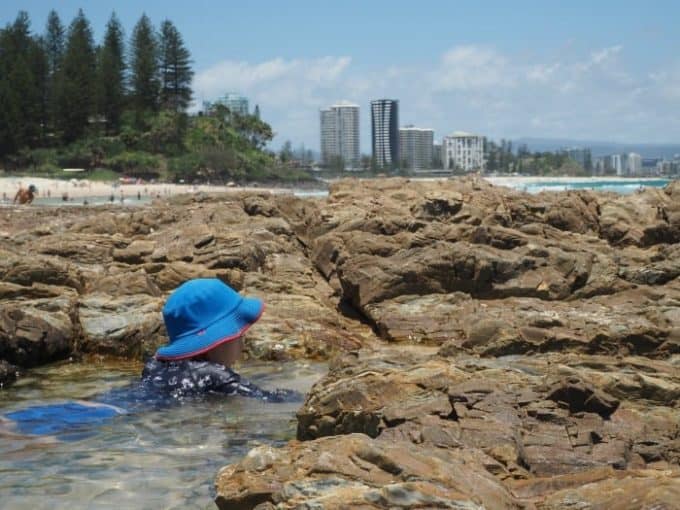 Fish and Chips by the Beach
No holiday by the beach is complete without fish and chips by the water and there is plenty of grassy areas to lay down a picnic blanket as well as tables and chairs by the beach.  There is also a playground for the kids to wear themselves out on while you sit back and enjoy the view. You will find a couple of fish and chips shops a 2 minute walk away at Rainbow Bay Village.
Visit Point Danger
My kids are still a little young to understand what a 'state' is, but older kids will have fun standing in both Queensland and New South Wales at the same time.
Go for a walk along the beach path.
It might sound 'boring' but walking along the wide path from Rainbow Bay up to Kirra and beyond is actually really fun! My kids were stopping along the way to check out different rocks, plants and just the view that they could see and they also had fun trying out the other playgrounds along the way.  As a fun reward, we stopped by the kiosk at the Greenmount SLSC for ice-cream and I *may* have also stopped by there for a coffee on the way back from my early morning walks!
What's your favourite familyholiday destination?