Hi there, we hope you've all had a deliciously sweet week!  Thank you everyone who joined us for last weeks party – we had an amazing 49 recipes linked up!  As always there were so many recipes which caught my eye and I have pinned in the hope of making soon. Some of my favourites from last week included:
These Stuffed Sweet Potatoes from Dancing through Sunday are such a clever twist on a classic recipe
I love a simple and delicious muffin recipe, and I think these Banana and Milo Muffins from Life at Number 5 would be a great recipe to make with the boys.
These Dukkah Almonds from Erin Made This look like the perfect afternoon snack.
I just can't resist these gorgeous biscuits on sticks from Zamamabakes – such a great Birthday Party idea!
We love Beetroot and I can't wait to try this great Beetroot and Lentil Salad from Land of Zonkt.
Don't forget to check out Lucy's top five!
I've been having a lot of fun experimenting with strawberry recipes over the past couple of months.  While they are in season, they are a staple in our house and you can normally find a couple of punnets sitting in our fridge.  Both of my boys LOVE them and can easily eat a whole container between them in a single sitting.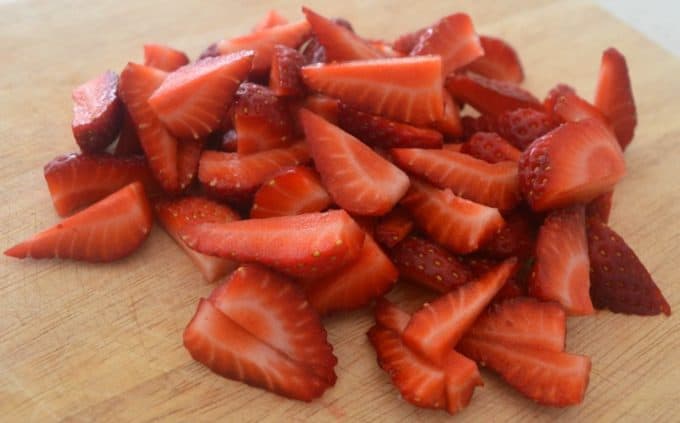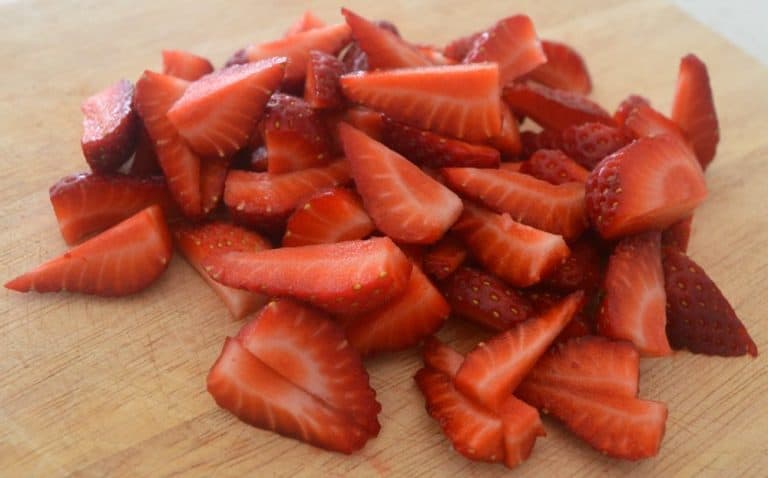 A few weeks ago when our Big Boy asked if we could "make cakes" I decided we'd experiment and make Strawberry Cupcakes for something a little bit different.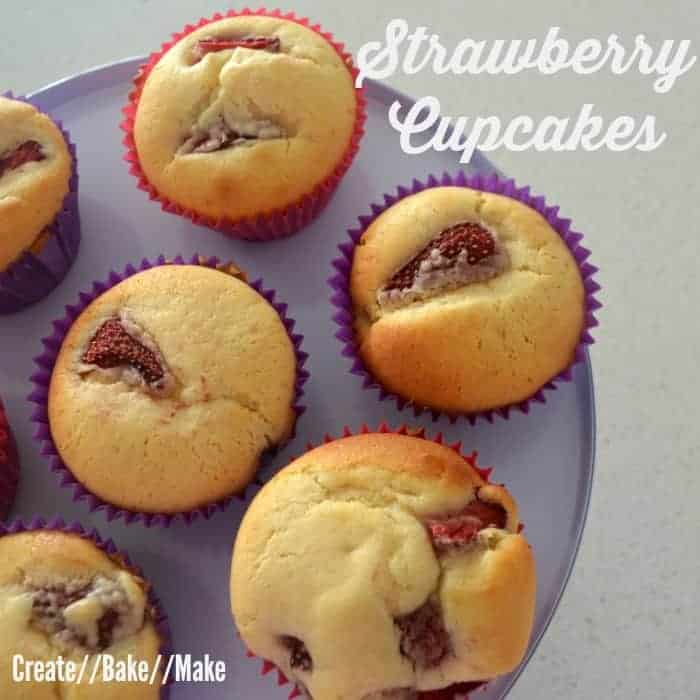 There really isn't a lot to this recipe, we simply added a container of sliced strawberries (250g) to our go to cupcake recipe and instead of icing them, we simply dusted them with icing sugar.  The addition of the sliced strawberries made these cupcakes extra moist, and they were the perfect snack to take with us to the Beach.
To make these cute and delicious Strawberry Cupcakes, you will need:
120g unsalted butter – softened
2/3 cup of caster sugar
1 1/2 cups of self raising flour
1/2 of cup milk
2 teaspoons of vanilla essence
2 eggs
250g of strawberries – sliced
icing sugar to decorate
Let's put it together!
Preheat your oven to 180 degrees and line a 12 hole muffin tin with paper cases.
Place the butter, sugar, flour, milk, vanilla and eggs in the bowl of an electric mixer and beat on a low speed for 2 minutes.
Increase your mixer speed to high, and beat for a further 2 minutes or until mixture is smooth and pale.
Add the sliced strawberries and gently fold through.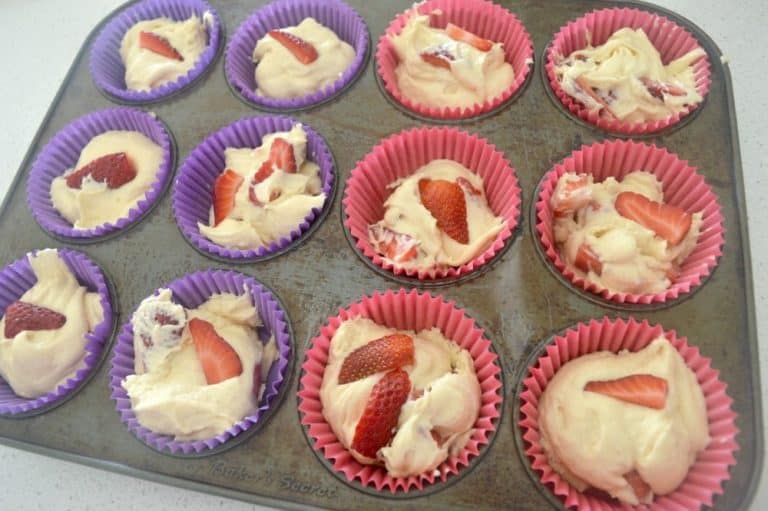 Spoon the mixture into the paper cases and bake for 20 minutes or until golden and cooked through.
Remove cupcakes from the oven and allow to cool for 5 minutes in the baking tray before carefully transferring to a wire rack to cool completely.
Enjoy cupcakes as they are, or dust with icing sugar.
Enjoy!
You're Invited!
Lauren from Create Bake Make & Lucy from Bake Play Smile have put their chocolate filled minds together, to bring you the newest and yummiest link up party in town…. Fabulous Foodie Fridays.
Each week we'll select 5 of our favourite recipes to feature on the following Fabulous Foodie Fridays link up party, so be sure to check back and see if your recipe is featured.
The rules for the party are simple:
1. Please only link up food or drink related posts. You can share up to 3 posts each week. They don't have to be recent posts, but please make them new to the 'Fabulous Foodie Fridays' party.
2. Simply add your links and they will automatically show up on both of our blogs… it's that easy!
3. It's sooo not a party without mingling…. please visit and comment on at least three other links that are near you in the list.
4. Follow us on social media so you can keep up to date with all the Fabulous Foodie Fridays goss!
Bake Play Smile:      Facebook    Instagram   Pinterest    Twitter
Create Bake Make:   Facebook   Instagram    Pinterest    Twitter
Fabulous Foodie Fridays:   Facebook    Instagram    Pinterest
5. Feel free to grab the Fabulous Foodie Fridays button and share the love around!
6. Leave a comment below so we know that you came and partied with us – we want to return the favour and visit you too.
* By adding your link, you are giving Bake Play Smile and Create Bake Make permission to post one photo from your post with a link back to the full recipe for party features and future roundups on our blogs and possibly share your image and link on social media. Oh and of course we will also let you know about upcoming Fabulous Foodie Fridays link parties!