This is a sponsored post for The Nappy Collective and Kids Business
The past week has certainly been one to remember.  After going on our first family holiday EVER at the beginning of the week, I dragged myself out of bed in the wee hours of Friday morning to brave  the G20 craziness that was taking over Brisbane and made my way to the airport to catch an early flight to Sydney to attend the Kids Business Bloggers Brunch.
It was my first time attending a Bloggers Brunch event, and I was excited, scared (mainly about the flight!) and nervous all at once.  What made the trip even more exciting, was that I was also going to be meeting up with my baking partner in crime, the talented and beautiful Lucy from Bake Play Smile.
After meeting Lucy shorty after I arrived in Sydney, we made our way into the city to drop off our bags at our hotel and also to meet the lovely Sam from The Annoyed Thyroid, who as well as making the BEST Caramel Fudge is also an amazing lady and turned into our office Sydney Tour Guide.  We all piled into a cab and after a short ride, we arrived at Sydney's beautiful Centennial Parklands where the event was being held.
As well as being an opportunity to talk to and meet other bloggers, the brunch was also a great opportunity to meet brands and learn more about their business and products.  It may come as no surprise to learn that I spent a lot of time hanging around the Brumby's display tasting their delicious Christmas products.  I'm just a little bit in love withe their Cherry and White Chocolate Balls and I may have stopped by a few more times during the morning just to taste more of them.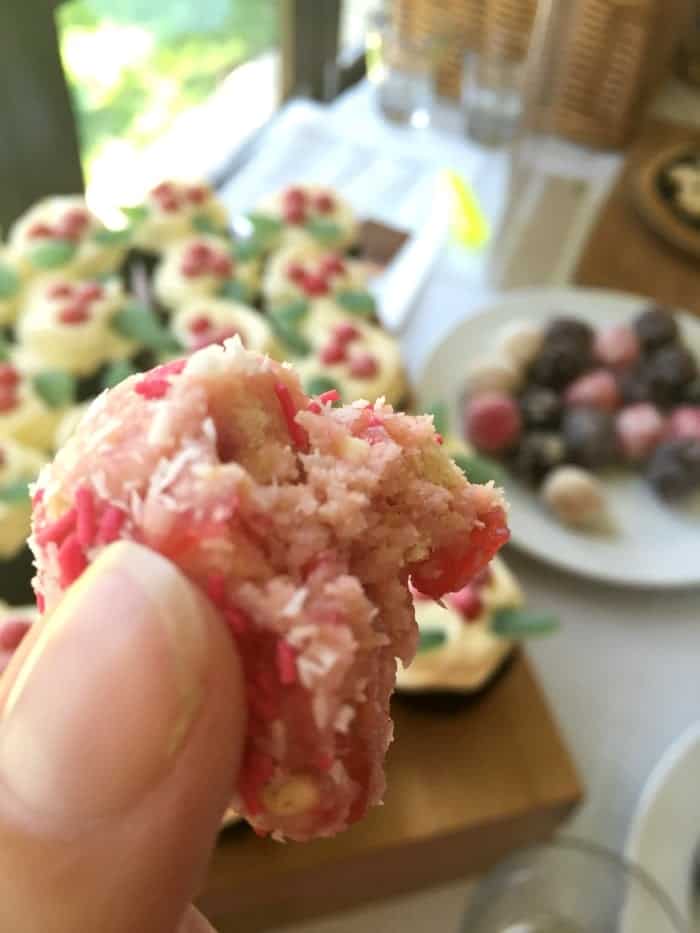 There was a happy buzz in the room, so it was really fitting that the theme of the morning was finding joy and happiness in what we do.  We were treated to three inspiring guest speakers, one of which was Jo-Ann Hicks from The Nappy Collective.
Jo-Ann spoke to us about the feelings of happiness and fulfilment she has experienced since joining The Nappy Collective team, and also spoke to us about the important work The Nappy Collective do – collecting and distributing unused disposable nappies to organisations which support families in crisis or need.  In just 12 months, they have collected a phenomenal 100,000 nappies to donate to these organisations.
Jo-Ann reminded us all that Nappies are a basic healthcare need and lack of sufficient nappies can lead to an array of problems for disadvantaged families. So by donating our spare nappies, we are helping these families to focus more of their time and energy on getting their lives back on track.  Anyone can donate their unused nappies, simply head over to The Nappy Collective to find your closest donation site.
I came away from the morning inspired and excited – and just a little full after eating all of those Cherry and White Chocolate Balls! Lucy and I spent the remainder of the afternoon wandering around Sydney checking out the sights (and shopping!) before we met our Tour Guide Sam at the O Bar for a drink and then dinner at Bowery Lane.
While I may have been in Sydney for just over 24 hours, I've come away inspired and been given a little boost that I didn't realise I actually needed right now.  It's reminded me how incredibly lucky I am to have  beautiful and special friendships in my life and that if it wasn't for blogging, I never would have met Lucy who really is just the sweetest person you will ever meet. It's also reminded me that I have the power to change my situation – whether it be in my personal or professional life, but most of all my 24 hours in Sydney reminded me why it's important to stop sweating the little stuff and be happy.
What has made you happy lately?
Kids Business Communications hosts the Bloggers BrunchTM series of events where bloggers and brands meet and mingle. These events also raise awareness and funds for different charities. For more information www.kidsbusiness.com.au
* Please note I received a travel voucher in exchange for writing this post which covered part of my travel costs.  As always all opinions and thoughts are my own xx