This post is brought to you by Nuffnang and 2017 Australian Grand Dairy Awards
One of my favourite ways to spend a relaxing (well as much as it can be with kids!) afternoon is to sit down with friends and family to enjoy a yummy cheese platter.  I always enjoy putting a cheese platter together but find I usually stick with the same type of cheeses and snacks to go along with them.  Last week I was very fortunate to be sent a selection of winning champion products from the 2017 Australian Grand Dairy Awards, and this was the perfect motivation to put together a creative but still easy cheese platter to enjoy with some friends.
I knew we were in for a treat as the Australian Grand Dairy Awards are the largest and most prestigious national dairy awards in the country and are the highest accolade for a Australian dairy producer. The awards recognise the finely honed skills of Australian producers and recognise the quality and excellence of their products and after tasting a selection of them, we've sure got some incredibly talented dairy producers out there!
In my hamper were the winners of six award categories which included: Emporium Selection Washed Rind (Champion Washed Rind and Mixed Rind Cheese), Prom Country Cheese Venus Blue (Champion Goat's and Sheep's Milk Cheese), That's Amore Cheese Diavoletti (Champion Flavoured Cheese), Heidi Farm Raclette (Champion Semi-Hard and Eye Cheese), Sharma's Kitchen Mango Lassi (Champion Flavoured Yoghurt) and Milani House of Gelato Dark Chocolate which was the winner of both the Dairy Gelato category as well as being the Grand Champion – and it was very easy to see why!!
While it was very tempting to keep all of these goodies to eat on my own, I decided to share the love and invite a couple of friends over for an afternoon swim and snacks – the perfect way to spend the afternoon really!  I thought I'd put together a large platter that would take awhile for us to get through, however I was proven wrong when it lasted just half an hour thanks to all of the kids wanting to be involved with tasting all of the cheeses and especially the Mango Lassi and Dark Chocolate Gelato we had for dessert!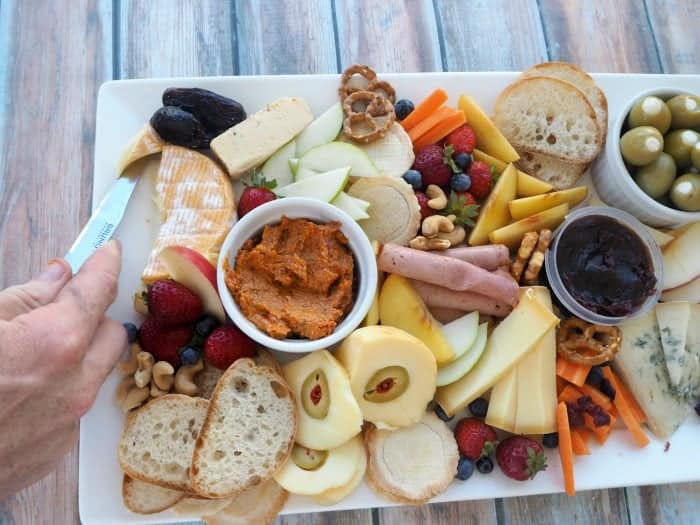 We took our job of taste testing very seriously and just had to eat more and more of each award winning product to ensure our critique was spot on! All six of us adults honestly enjoyed ALL of the cheeses, both on their own and with other yummy goodies from our platters. We also commented how it was such a great way of trying new types of dairy products which we may not have otherwise tried. My personal favourites being the Emporium Selection Washed Rind (because who doesn't love a soft gooey cheese) and also the Prom Country Cheese Venus Blue – It really goes to show what a difference a good quality cheese can make,  as few of us were a little hesitant to try the Venus Blue as we had a preconceived idea of what blue cheese tastes like, but we all really enjoyed it, especially when eaten on top of a cracker and topped with a strawberry!
The kids were big fans of the Emporium Selection Washed Rind and also the Heidi Farm Raclette (which was also the Grand Champion of the Cheese categories) which was perfect served on top of a slice of pear or crackers. The next day I used both of these cheeses to make the ULTIMATE toasted cheese sandwich for their lunch, ok and my lunch too!  Mr Five has even requested that I add a 'special cheese' toasted sandwich to his lunchbox this week!
When it came to the Dark Chocolate Gelato and Mango Lassi, the kids declared them to be the 'best ice chocolate' and 'milkshake' that they had ever had and wouldn't stop asking for more.
It was really easy to see why the Milani House of Gelato Dark Chocolate was not just a category winner, but the Grand Champion of the awards as well, as it was so delicious, rich and creamy it was just like eating chocolate off a spoon.  It's safe to say a great afternoon was had by all of us and we certainly weren't hungry by the end of our tasting adventure.
Spending the afternoon enjoying good quality (and best of all local Australian) items has inspired me to do it more often, as it's really not hard to put together a simple cheese platter which is full of quality and great tasting cheeses and other products.  If you are also keen to put together a cheese platter to share with friends (or enjoy by yourself, no judgement here!) then here are some ideas and tips for putting together a easy cheese platter.
My top tips for putting together an easy cheese platter are:
Leave the cheeses in large blocks instead of cutting them into small pieces as this will stop them from drying out – and it also looks better!

Take the cheeses out of the fridge an hour before you are planning to serve them as they have the best flavour when at room temperature

Place foods that go well with the different cheeses next to each cheese to help encourage people to try them together

Have a few cheese knives for people to use as this will help stop the different flavours of the cheeses getting mixed together and will also mean you won't have to wait as long to try some cheese!

Use a large plate/board as a platter and be generous when it comes to placing your items on it.

Include a spoon or a server for any pate/dips you are serving to make it easier for your guests.
If you are looking for the highest quality Australian Dairy Products,  simply look  for the blue and gold Australian Grand Dairy Awards stickers on products packs to know you are buying the best of the best and at the same time, supporting Australian dairy producers – I promise you won't regret it!  To view all of the 2017 Australian Grand Dairy Award Champions and to learn more visit the Legendairy website.