This is a sponsored post for Mamee Chef
I'm pretty confident that I'm not the only parent out there who gets caught up in the chaos of preparing lunch and snacks for the kids (and making sure they actually eat them!) and ends up eating their leftovers instead of putting together a meal for myself.  Let's face it, most days my lunch looks like this:
While it's still good food, when it's chased down with a cup of lukewarm coffee it really doesn't make for a very appetising meal.  As much as I would love to be sitting down to a yummy meal of my own, thanks to a pair of energetic toddlers who love nothing more than throwing their food/bowls/cutlery etc onto the floor – it just doesn't happen.
I know it's important for me (and all the other parents out there!) to make sure we actually sit down to a meal too, and that's where the new Mamee Chef Premium Instant Cup Noodle range developed by leading Malyasian celebrity Chef Ismail comes in.
We were fortunate to be sent some of these Mamee Chef Noodles to try and I've discovered they are a great alternative the eating the boys leftovers!   They make an easy lunch or snack for me which requires minimal effort to make – important when I'm wrangling supervising a two and three year old eating.  Mamee Chef Noodles are made using pull noodle technology (which emulates the traditional way of making noodles), are available in three flavours and they are also made from REAL ingredients. My personal favourite is the Spicy Chicken Shiitake with Shiitake Mushrooms and Vegetables as it's got the right amount of spice and contains large chunks of mushrooms and other vegetables, which makes it a filling meal for me.  Best of all, I just need to add boiling water to the noodle up before I start to prepare the kids lunch and by the time I'm done sorting them out, my noodles are ready to eat straight from the cup.
Mamee Chef Instant Noodles also make a great snack or meal when you are on the go thanks to the handy plastic fork which is included in the pack, my husband has also been taking them to work for his lunch and they have certainly been a vast improvement on the dodgy lunches he normally gets from the on site food van!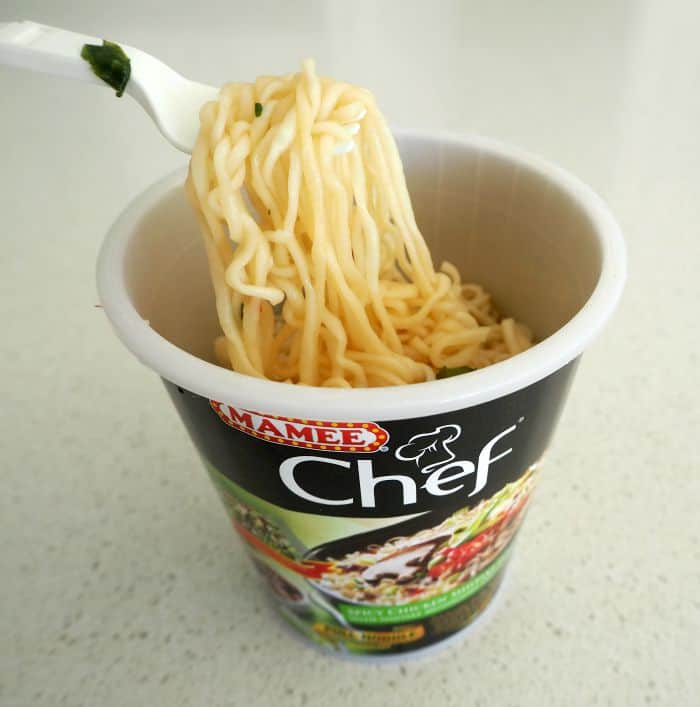 On the rare occasions when I've had a little more time to sit down and even relax a little bit at lunchtime, I've transferred my instant noodles into a bowl and actually felt like I'm eating a meal from our local Asian takeaway.
Overall Mamee Chef Premium Instant Noodles will continue to make a regular appearance in our house as they are so easy to prepare, have authentic Asian flavours and save me from surviving on leftover sandwich crusts and yoghurt!  As an added bonus, they are also on special this week at Woolworths for just $1.80 each.
The new Mamee Chef Premium Instant Cup Noodle range is perfect for busy adults looking for convenient lunch and snack solutions, with restaurant quality taste and quality ingredients. Available in three delicious flavours; Curry Laksa with Dry Tofu and Vegetables, Tom Yam with Tasty Shrimp and Vegetables, Spicy Chicken Shiitake with Shiitake Mushrooms and Vegetables. Mamee Chef $2.29RRP per cup. Available in Woolworths supermarkets nationally. mamee.com.au | facebook.com/mameechef | #MameeChef