Welcome to our Fabulous Foodie Fridays party! We hope you've had a lovely week filled with lots of baking fun. This week Lucy and I have been super busy working on a Christmas Recipes ebook that we are very, very excited about! Our feature recipe this week is Lucy's easy Apricot and White Chocolate Oat Slice – enjoy!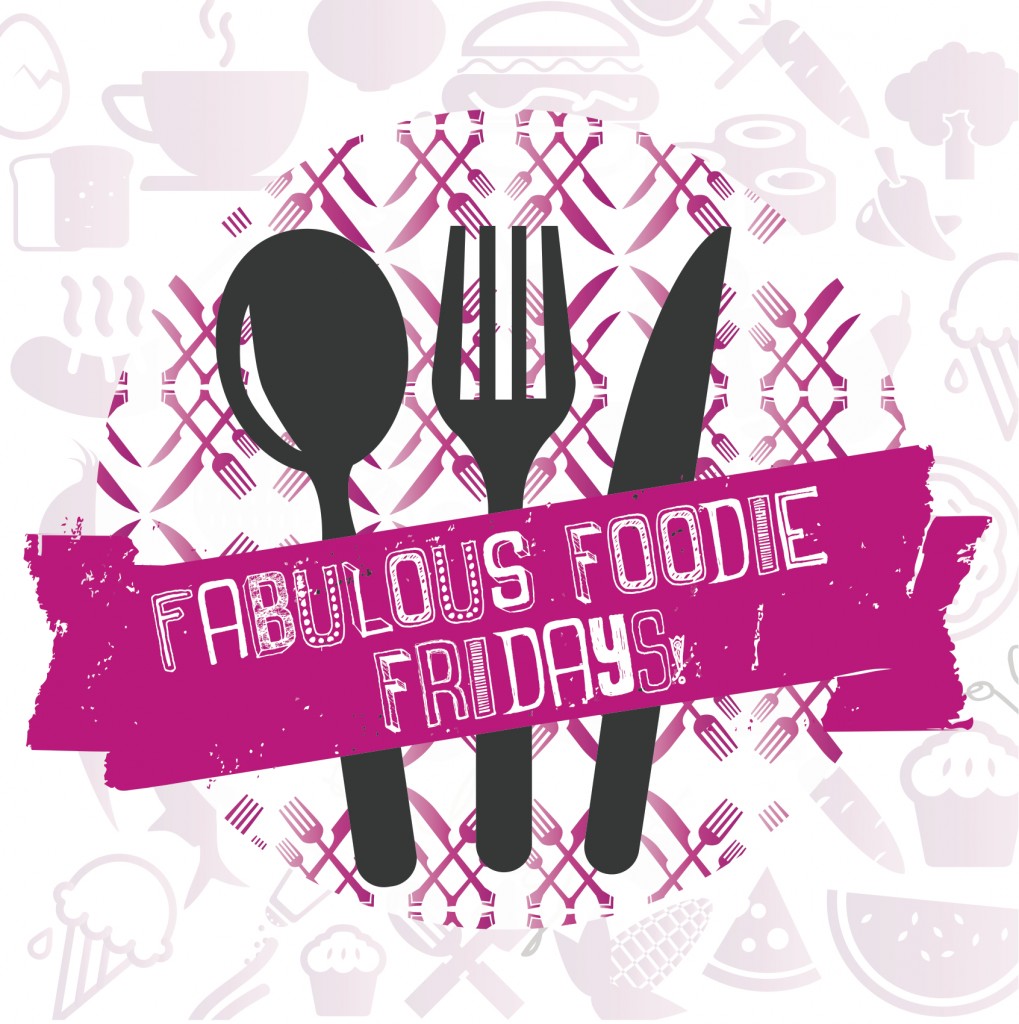 And now it's over to Lucy!
I made a version of this Apricot and White Chocolate Oat Slice slice a few weeks ago using sultanas and chocolate chips (you can find that recipe here) and it was so popular both on the blog and at home that I had to play around with the flavours and make something that I think is even better. Even my hubby said this was his favourite version!
So essentially, the slice is made using a great recipe base. It's so wonderfully versatile that you really can switch and change the ingredients around. Because it's made with oats it's actually quite filling as well.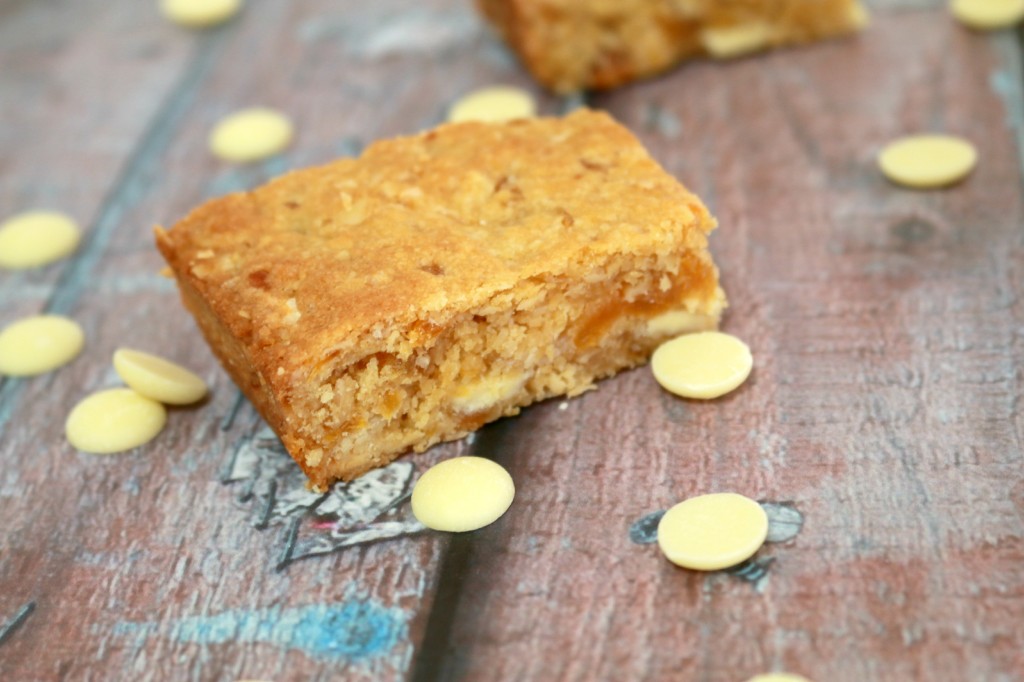 I really think that apricot, white chocolate and coconut is my new favourite flavour combination – yep move over mint and chocolate – I have a new bestie in town! The flavour of this slice also reminds me of an apricot and coconut bar I used to love when I was little. Mmmm…. sorry I'm getting off track!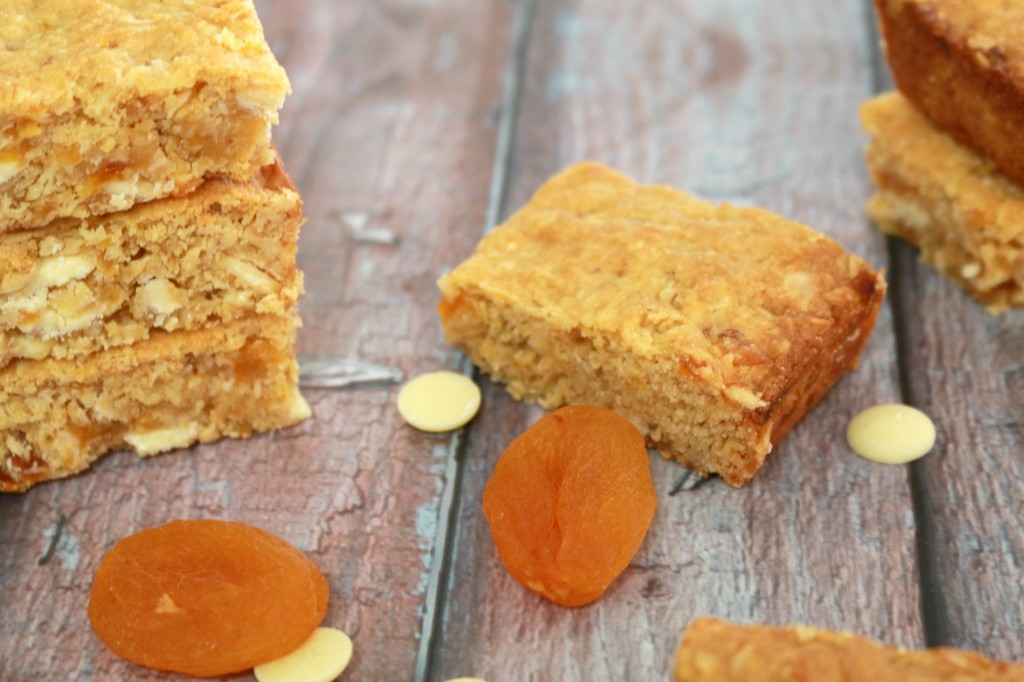 Now the most important part of making this slice is to let it cool completely before cutting it. The longer you leave it, the easier it will be to have lovely neat slices. I made mine at night and cut it the next morning so it was super easy. I did try cutting one of my other versions while it was still warm and it crumbled a bit – mind you, it still tasted great! Also if you have a very sharp, small serrated knife, then that's your best bet for cutting this slice (and pretty much any other slice for that matter).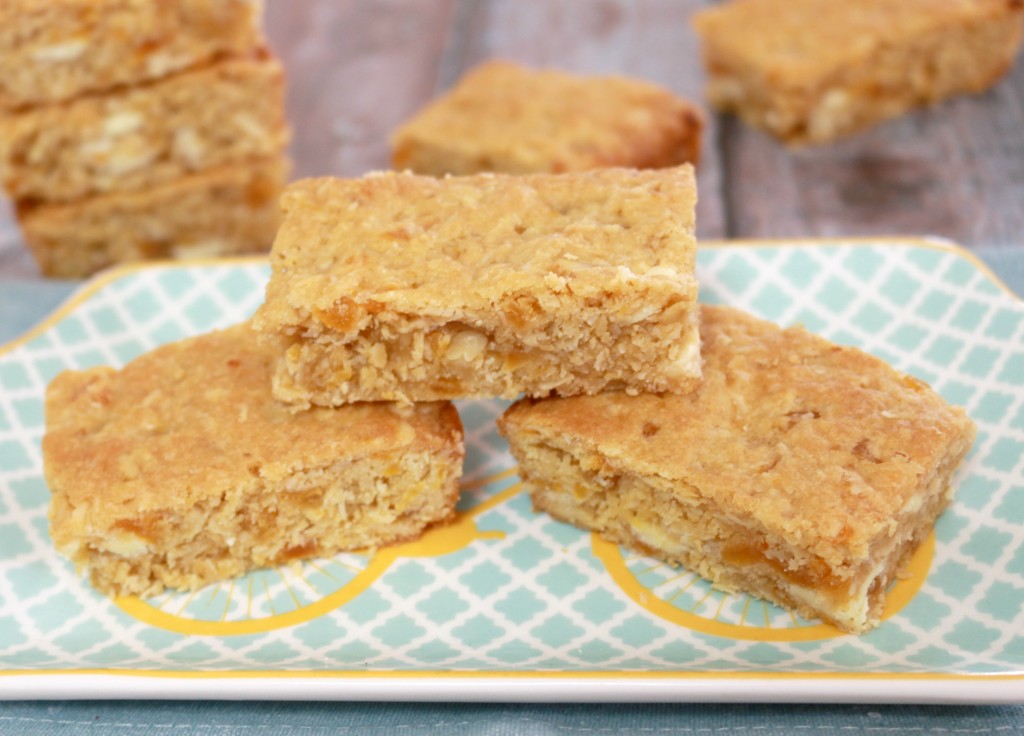 For such a quick and easy slice, this one really packs a punch in the flavour department – so much so, that's it still on high rotation at our house!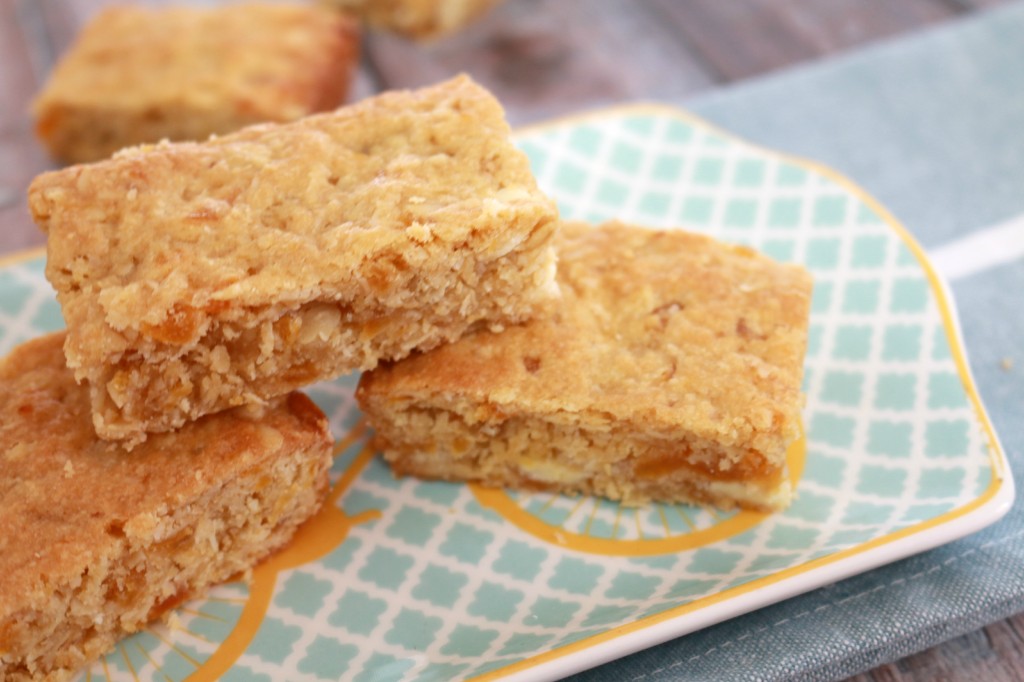 Apricot & White Chocolate Oat Slice
Ingredients
Melted butter

to grease

75

g

1/2 cup self-raising flour

75

g

1/2 cup plain flour

90

g

1 cup rolled oats

70

g

2/3 cup desiccated coconut

140

g

2/3 cup, firmly packed brown sugar

130

g

2/3 cup finely chopped dried apricots

95

g

1/2 cup white choc bits

125

g

butter

melted, cooled

1

egg

lightly whisked
Instructions
Preheat oven to 180°C.

Brush a 17 x 27cm (base measurement) slab pan with melted butter to lightly grease.

Line the base and 2 opposite long sides with non-stick baking paper, allowing it to overhang.

Sift the combined flours into a bowl.

Add the oats, coconut, sugar, chopped apricots and white choc bits, and stir to combine.

Make a well in the centre and add the melted butter and egg.

Use a wooden spoon to stir until well combined.

Spoon mixture into prepared pan and use the back of a spoon to smooth the surface.

Bake in preheated oven for 20 minutes or until golden brown and firm to the touch.

Remove from oven and set aside to cool completely.

Cut into squares to serve.
For more great slice recipes, check out our 'No Bake Slices and Bars' eBook – also available in a Thermomix version.
You can shop the entire range of print and eBooks here.