When I learnt aboutThe Sweet Swap a few weeks ago, I immediately knew it was something I wanted to be part of. It was created by the lovely and very talented Amanda and Sara as a way to raise funds for Child Fund Australia.  This year 30 bloggers participated and by paying a small registration fee, we helped raise funds for a Preschool in Vietnam to have clean water thanks to filtering equipment, a tank to store the clean water in and a child safe tap.  You can find out more here.
Each blogger is given three matches to send a delicious sweet to.  After MUCH deliberating and going back and forth between a couple of recipe ideas, I decided to make Caramel Hazelnut Fudge.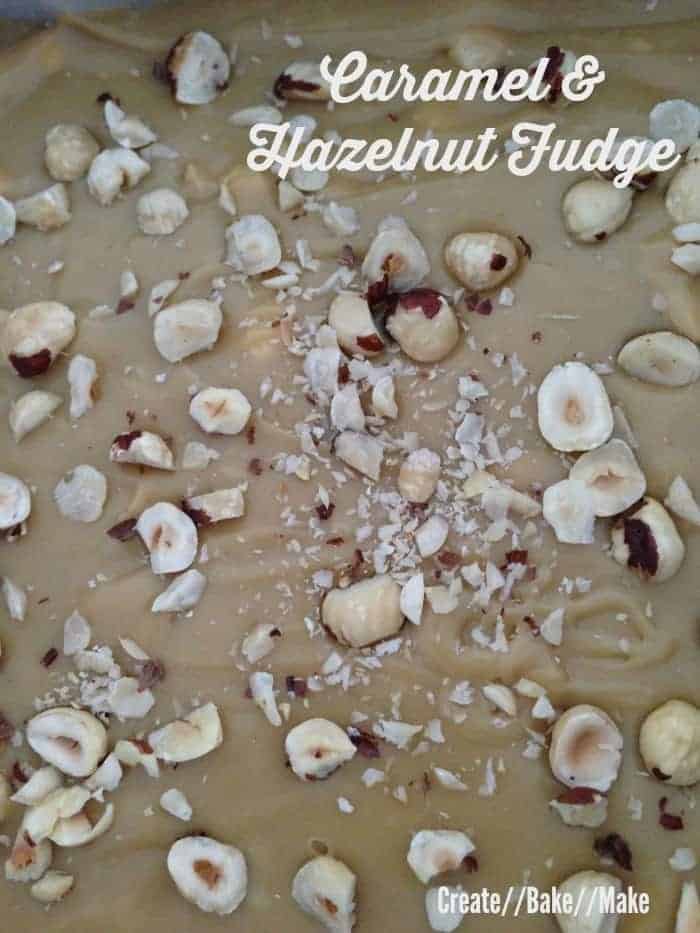 I made two batches of this rich and creamy fudge for my sweet swap matches. It was with a little sadness that I put my parcels in the post – this fudge was so good I wanted to keep it all for myself!
Luckily it was only a few days later when I received my first sweet parcel and immediately felt much better about giving away all of my fudge!  A huge thank you to:
Love Swah for these amazing Salted Caramel Popcorn Brownies
 Taryn from The Wooden Spoons for her delicious (and my husbands favourite!) 'Greenies' aka Pandan Blondies with Coconut and White Chocolate
East Meets West who created these lovely Salted Caramel Swirl Marshmallows
As well as raising money for an important charity, The Sweet Swap was a fun (and delicious) experience and I encourage you to get involved next year!
To make my Caramel and Hazelnut Fudge, you will need.
1 x 395g tin of Condensed Milk
1 cup of firmly packed Brown Sugar
125g of unsalted Butter
2 tablespoons of Glucose Syrup
2 tablespoons of Golden Syrup
200g of Cadbury (or similar) White Chocolate – chopped into small pieces.
120g of Roasted Hazelnuts
Let's put it all together:
– Line the base and sides of a 20x 20cm square cake tin with baking paper.
– To roast the Hazelnuts, place on a tray lined with baking paper and cook in a 160 degree oven for 10 minutes. You will see the skins starting to crack and the Hazelnuts will start to turn golden.  Carefully pour the hazelnuts onto a clean hand towel, fold over and gently rub the hazelnuts through the towel to remove the skins.  Place the peeled hazelnuts into a small bowl and set aside until needed.
– In a large saucepan add the Condensed Milk, Brown Sugar, Butter, Glucose Syrup and Golden Syrup and stir occasionally over a medium heat until combined.  Increase the heat slightly and stir for another 10 – 12 minutes until mixture is thick and glossy.
– Add the chocolate and half of your hazelnuts and stir continuously until it the chocolate has melted and combined.
– Working quickly, pour the fudge into the lined cake tin and sprinkle the remaining hazelnuts over the top.  Pop in the fridge to set overnight, before using a warmed sharp knife to cut into small pieces.
You can find more great Sweet Swap recipe here.
Linking up with Essentially Jess for IBOT