I am the first to admit I had no idea what Snickerdoodles were until I read a recipe for them in one of my all time favourite cook books – Nigella Lawson's "How to be a Domestic Goddess".  Given their name I had always thought one Snickers would be one of their ingredients, and I'm sure others out there have thought this too!
Snickerdoodles are really easy to make, and I thought they would be a great recipe to play with.  I still had some Nutella left over after making my Ferrero Rocher Cupcakes with Nutella Buttercream, and spying the jar of Nutella in our pantry an idea began to form.
I've based this recipe on Nigella's Snickerdoodle recipe which I have made before and just made a few changes to it.
One of my dilemmas was what to roll the Snickerdoodles in?  Should I go with Cinnamon as per the original recipe, or should I try something else – I was leaning towards coconut.  To answer this question I carried out a very scientific experiment and coated half of my Snickerdoodles in cinnamon and the other half in coconut.
Learn how to make these Snickerdoodles with Nutella here!

Print Recipe
Snickerdoodles with Nutella
Ingredients
250

g

of plain flour

3/4

teaspoon

baking powder

1/2

teaspoon

salt

125

g

butter - softened

1

egg

100

g

+ 2 extra tablespoons of caster sugar

1

teaspoon

vanilla extract

1

tablespoon

coconut

1/2

cup

of Nutella.
Instructions
Preheat your oven to 180 degrees and line two baking trays with paper.

Combine the flour,  baking powder and salt and set aside until needed.

On a small plate, combine the additional 2 tablespoons of caster sugar and the coconut

Cream the butter with 100g of sugar until it is light and fluffy.  Then gradually add the eggs and vanilla extract and continue to beat until it's completely combined.

Add the dry ingredients and stir through with a metal spoon until a smooth dough forms.

Using a tablespoons, scoop up the dough and roll it into a ball.  Using your thumb, make a small indent in the middle and add approximately a 1/2 teaspoon of nutella.   Gently work the edges of the dough until they cover the nutella and gently roll into a circle.

Roll balls in the coconut and sugar mixture.

Place on a baking tray and bake for approximately 15 minutes, they should be turning golden brown and small cracks appearing on top.

Remove trays from oven and cool for approximately 5 minutes before carefully transferring to a wire rack to cool completely.
And there you have it – Snickerdoodles with Nutella!  I personally think these tasted better tossed in coconut and sugar, however feel free to try them with cinnamon instead/as well – they still taste great!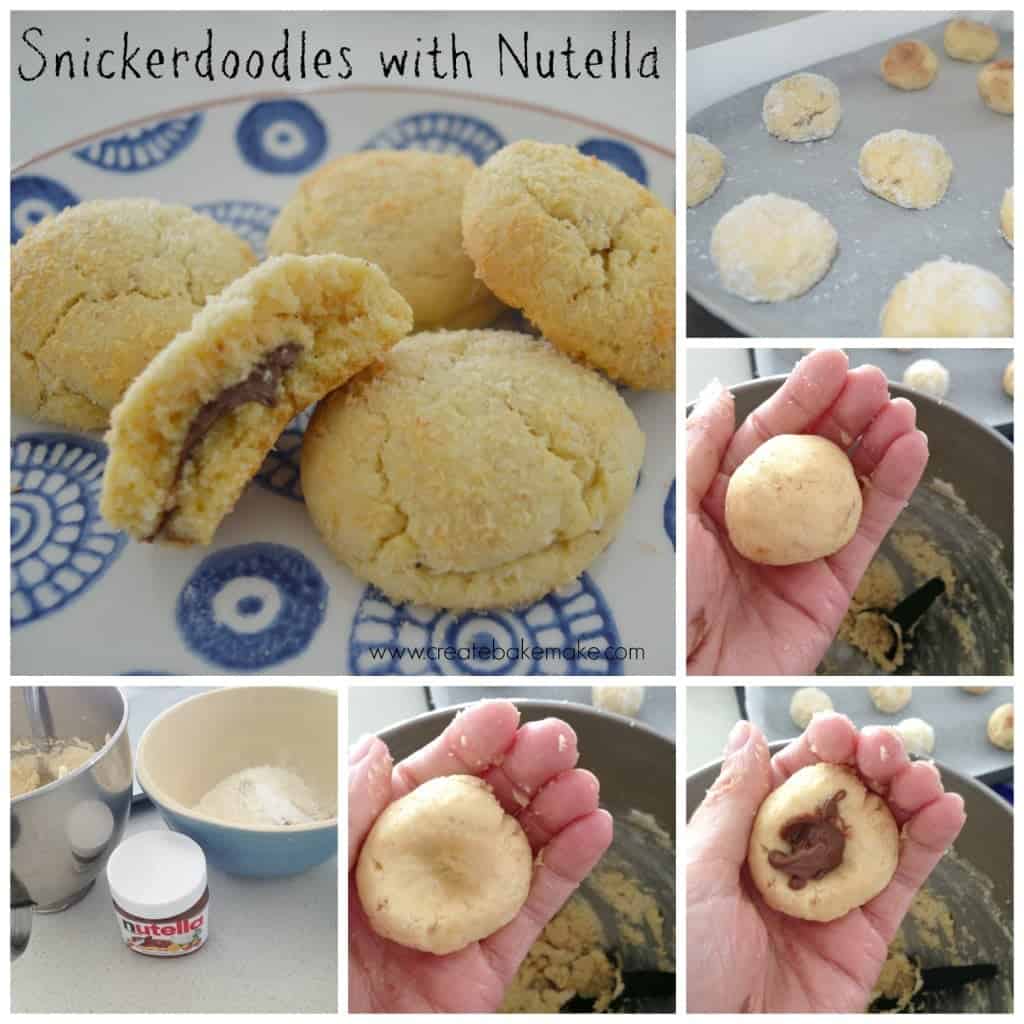 I still have some Nutella left over, what should I make now?
Linking up with the wonderful Essentially Jess for IBOT.