As I grew up with only a sister, prior to having my own two boys I hadn't had much to do with raising boys. I remember ALL of the 'advice' I was given when our boys were young (as well as the looks of sympathy I received for having 'only' boys in the first place!) from family and friends (along with MANY strangers) that I could expect my life to be turned around as my boys grew up.  Clearly I was naive at the time and just laughed it off, but I have quickly discovered that raising boys – especially only boys, is a journey no parenting book or anyone can EVER prepare you for.  Here are just a few of the things I've learnt about raising boys over the past five years.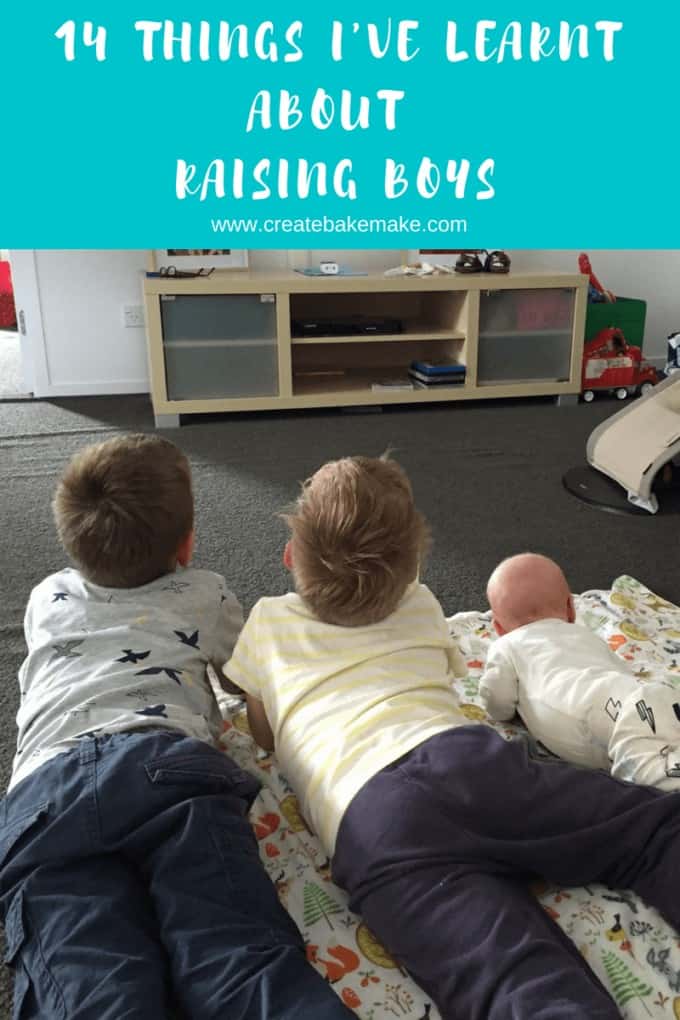 The noise NEVER stops – unless they are asleep.
If they can jump/climb/tackle something they will.
ALL bodily functions are hilarious
You will be eaten out of house and home
Transformers, trucks and other action figures need to sit at the dinner table too.
My two older boys are hungry ALL.OF.THE.TIME and regularly eat more at meal times than me. I'm already saving for our food bills for once they become teenagers.
They don't stop moving
Sitting still for more than 5 minutes? Impossible, unless they are on the iPad or watching transformers and then there is still a fair chance you will catch them jumping around trying to recreate what they are watching.
Clothes are optional – our five year old starts stripping off the moment he is out of the car.
They love to be outside – even when it's cold and rainy.
From a very early age boys become obsessed with their penis, whether it's touching it, playing with it or what comes out of it, it's a source of amusement for many of them.  Be prepared to find yourself asking them to "put it away" while you are sitting at the dinner table or to "stop playing with it" while they are watching tv or in the bath.
You need a tough stomach
With all of the chaos and never ending activities, it's inevitable that your son is going to injure himself at some point and a hospital trip (or two) is on the cards – touch wood we haven't had any broken bones yet
They love their Mum and will cuddle you for no reason at all.
What have you learnt about raising boys?